Design Indaba Conference 2014

Design Indaba Conference 2014 takes place in Cape Town from 26 to 28 February 2014 and at five confirmed Simulcast venues around Southern Africa.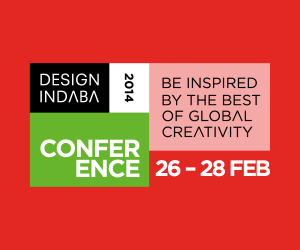 Dubbed "the Conference on Creativity", the Design Indaba Conference is all about how design, creativity and innovation can positively impact the world. In 2013 the likes of Creative Review editor Patrick Burgoyne said it is "perhaps the best design conference in the world", while in 2012 Hans Robertus, director of Dutch Design Week, called it "The best event of the year!" And year after year this sentiment is unanimously echoed by those who have experienced the annual Design Indaba Conference.
So much more than a "how-to" conference, this is a forum fuelled by inspiration that breeds ideas, ingenuity and innovation. Creativity is our currency and a better future our agenda. The Conference is your opportunity to learn from and be inspired by the world's foremost creatives, thought leaders, entrepreneurs and trendsetters. It's the not-to-be-missed creative inspiration event of the year, the perfect way to kickstart 2014.
For pricing and ticket information go to our Bookings page. The main conference and Cape Town simulcast is now sold out. Tickets are still available in other cities.
Sign up to our weekly newsletter for event details as they are released, including speaker announcements, loyalty programmes, special events and more.
Event Information

Event Information

Wednesday, 26 February, 2014 - 09:00

to

Friday, 28 February, 2014 - 17:00

Venue:

Full Indaba (three-day) ticket: R7 450.00

One-day ticket: R2 995.00

Discounts on group bookings available on Full Indaba pass
Simulcast registration - Cape Town
Registration is at the CTICC on Tuesday, from 14:00 to 19:00.
Your simulcast pass includes:
3 x R40 lunch vouchers to use at the food truck vendors located across the CTICC, at Design Indabar 2014.
1 free entry ticket to Design Indaba Music on Wednesday, 26 February.
1 free entry ticket to the Design Indaba party on Thursday, 27 February.
Your simulcast pass gets you a sneak preview, over the extended lunchbreak on Thursday, as well as Design Indaba Expo access on Friday.
During the Conference, late registration will be open on Wednesday from 07:00 to 18:00; Thursday from 07:00 to 17:00; and Friday from 07:00 to 10:00.
More About Design Indaba Conference 2014
Pages