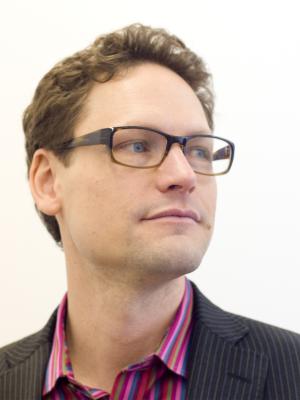 Speaker
Media design company Local Projects, headed up by Jake Barton, is reinventing public space through media, creating meaning and connections. By engaging audiences through emotion and technology, Barton develops new ways for people to interact with art, cities, history and one another.
Local Projects is currently creating the media for the 9/11 Memorial and Museum, the Cooper-Hewitt National Design Museum with Diller Scofidio + Renfro, and the Frank Gehry designed Eisenhower Presidential Memorial. Local Projects won the 2013 National Design Award for Interaction Design, and was named second of the top ten most innovative design firms by Fast Company Magazine for its redefinition of emotional storytelling.
Barton is recognized as a leader in the field of interaction design for physical spaces, and in the creation of collaborative storytelling projects where participants generate content. Clients include SFMOMA, StoryCorps, GE, Johnson & Johnson, BMW Guggenheim Lab, Cleveland Museum of Art, Seaworld, Microsoft, the National Museum of African-American History and Culture, Top of the Rock and the Sugar Hill Museum of Children's Art and Storytelling.