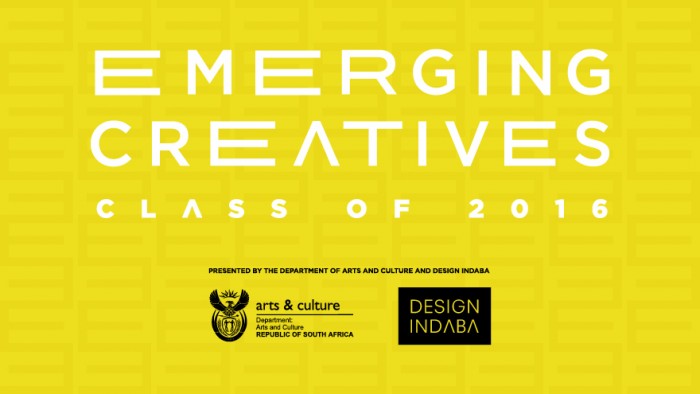 The Emerging Creatives Programme presented by Design Indaba and the Department of Arts and Culture provides support, education and mentoring for South Africa's future designers.
This once-in-a-lifetime opportunity has helped launch the careers of celebrated and vibrant young designers such as Laduma Ngxokolo, Katherine-Mary Pichulik, Daniel Ting Chong and Andile Dyalvane.
The whole programme was life changing. – Thula Sizwe, Emerging Creative 2015
For 2016, the programme provides the opportunity to be inspired by the best designers in the world and the selected participants will get to meet leaders in the local and international design industry. Their work will be showcased to retail buyers and media from around the world. A year-long programme of support, mentorship and guidance in how to manage and grow small businesses will run alongside the opportunity to show their creative work in travelling exhibitions in Cape Town, Johannesburg and Durban.
View our 2016 Emerging Creatives and exhibition details here.
About Emerging Creatives
The Emerging Creatives programme is a developmental platform for young creatives who have relatively little industry exposure. Design Indaba established the Emerging Creatives programme in 2005 because of a strong belief in nurturing this new creative talent and knocking down the barriers to entry for those just getting started. Going on 10 years, and with the fundamental changes in the media landscape and the local design industry, we have endeavoured to make the programme even more relevant in the South African context. Architects, fashion designers, illustrators, furniture designers or jewellers – all sectors are welcome and participants are selected based on the quality and originality of their work and its ability to stand alongside world-class designs.
Applications are open to students in a creative faculty at a tertiary institution in South Africa and young designers in the process of establishing a design service or business. Applicants must be South African or have residency status to qualify.
Find out more about some of our Emerging Creatives alumni and what they have been up to since launching their careers.
Emerging Creatives FAQs
Criteria for Entry:
Applications are open to current students
Applications are open to recent graduates (must have graduated from a tertiary institute within the last two years)
Applications are open to those with no tertiary background
Emerging Creatives is primarily a student programme, therefore preference will be given to applicants between the ages of 17 – 30 years old. If however, you have changed career paths and are a mature student just entering the industry, you are still welcome to apply.
If already working within the design industry, applicants must not have had an established business for more than 6 to 9 months at the time of applying
Applications are accepted from South African citizens only
Products must be created and manufactured in South Africa
A total of 40 participants will be selected from all entries received
Applications close at midnight on 15 November 2015
If I am accepted, what is included?
If your application is successful and you are chosen to be a Design Indaba 2016 Emerging Creative, you may* receive the following:
A year-long programme of mentoring and support
Return flights to Cape Town and accommodation for the duration of Design Indaba Festival 2016, with a daily stipend
Tickets to watch Design Indaba Simulcast
Attendance at a full-day Design Workshop in February and a second online workshop in June 2016
The opportunity to showcase your work at the Design Indaba Conference
An exhibition of your work in Cape Town, Durban and/or Johannesburg
A profile on designindaba.com in the Designer Directory
A year-long programme of media exposure including online video, web articles and social media posts
Latest updates on Emerging Creatives
Pages