The Mvelo Desk was nominated as one of the Most Beautiful Objects in South Africa in 2018. More than its aesthetic beauty, the piece of furniture represents two cultures that have been weaved together by solid oak.
Its designer Siyanda Mbele says he took his craft and turned it into a company called Pinda Furniture. The name of his company is derived from a Zulu word for again. He says it represents a time in his life that he refused to give up.
Instead, he chose to follow through with his ambitions as a designer by incorporating the elements that he found lacking in mainstream design. With Pinda Furniture, he recognises the need for African culture to be represented by African designers. "The content is largely western, it's largely European, you learn mostly about European architecture," says Mbele.
Nominated by photographer Trevor Stuurman at the Design Indaba Festival 2018, the Mvelo Desk is a physical commentary on this generation's devotion to career. Mbele wanted to tell the story of how we're often married to our jobs through symbols from Zulu and Ndebele cultures.
Watch: The Mvelo desk is the love story of the career bound
Diamond and chevron shapes are festooned along the sides of the Mvelo Desk, which represent femininity and masculinity working together to create beautiful patterns.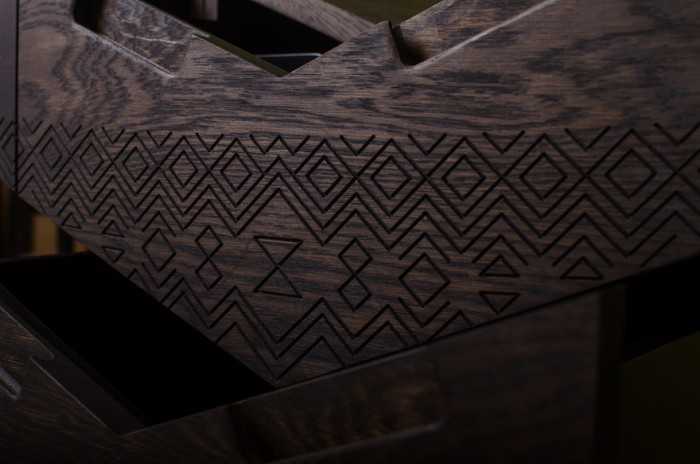 It's an example of the way Mbele uses different cultural inspirations to create unique, thoughtful pieces which are also functional.
The designer felt as though he lacked knowledge about his own culture. By incorporating it into his own designs he was able to gain insight and share that insight with others.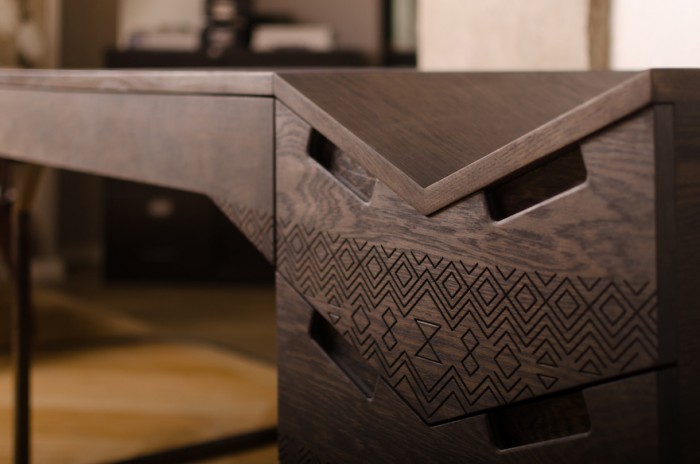 By creating practical, locally made art and furniture, Mbele hopes to inspire younger South African designers to learn and teach. "It's not only practical furniture that looks good but it's also a conversation starter," he adds.
Read More: Tutu 2.0 Pendant Light named Most Beautiful Object in South Africa 2018
Mbele's association with Design Indaba dates back to 2014. As part of the Emerging Creatives programme, an annual exhibition of young designers, Mbele was able to showcase his work, make the right contacts and sow the seeds for his future business.
His love for design dates back even further. From illustrating with his cousin as a kid to studying the Durban University of Technology, Mbele was always consumed by the need to develop a career in design. This need persisted even when he found out there was no course in furniture design at his university. Interior design was the next best thing. "I checked the dictionary to look up what it was before I left for the entrance test," Mbele jokes.
Coincidentally, the decision would pay off, solidifying his skillset as a designer who moves across the disciplines of furniture design, art and interiors.
Some of Pinda Furniture's work has been recognised all over South Africa including the Nadini table, which is made up of Ndebele, Venda and Zulu patterns. The table caught the attention of renowned trends forecaster Li Edelkoort who showcased his design at her annual Design Indaba seminar which takes place at the Festival. And in 2016, he was given the Southern Guild Design Future Found Award for his innovative work in the local furniture design scene.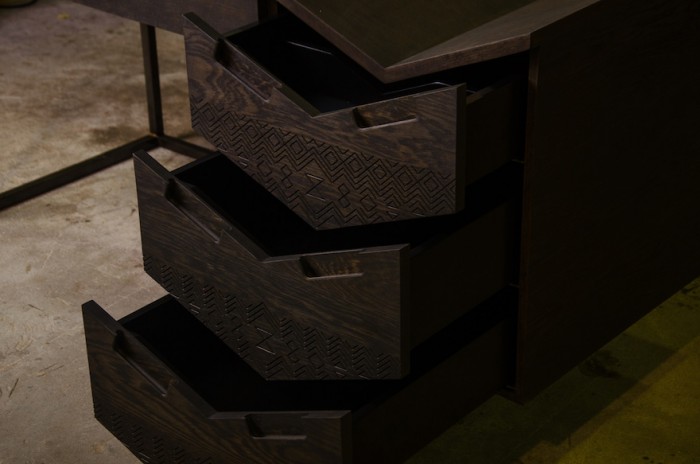 He has since helped design a provincial home and a fully equipped trampoline park. But after he designed the Mvelo desk, Mbele says he was stuck on what to do next. "I did not have a clear direction of where I wanted to go," he explains, adding that he now hopes to design a range of lamps and lighting inspired by Zulu culture.
Ultimately, Mbele wants to keep making products that bring people joy. "You know when you have a happy customer, that is amazing," he adds.