Design Indaba Nightscape 2018

Design Indaba Festival 2018 presents a celebration of sound and sight in a festival of music, performance and exhibitions on the Artscape Piazza.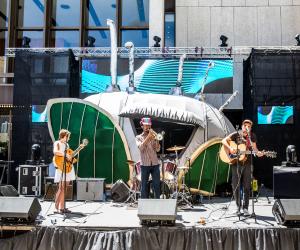 Every year Design Indaba curates an unexpected selection of music, performance and art installations to create an inimitable sensorial experience for Design Indaba Festival goers. Our lineup spans the continent and beyond, with highlights coming from unknown talents around Africa, special performances by selected Conference speakers, and a range of local and international artists who are breaking boundaries.
Nightscape will take place at the Artscape Theatre Centre from 6pm on 22 February till late and 6pm on 23 February till late. Tickets are priced to go and open to the public.
Popup bars and food vendors are always on offer, with a wide range of flavours and cuisines to choose from.
To keep the programme as fresh and relevant as the Design Indaba audience has come to expect, the full lineup will only be confirmed by early 2018.
More About Design Indaba Nightscape 2018