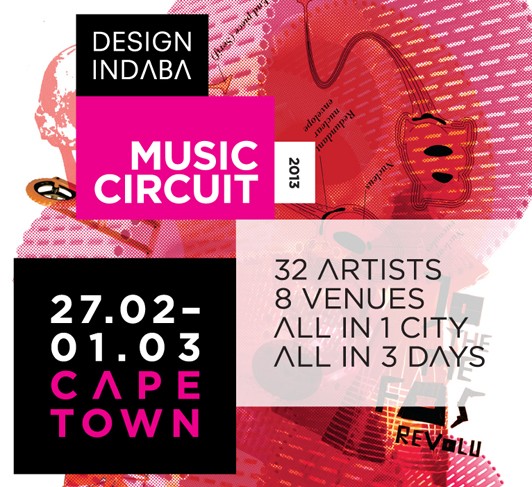 Design Indaba Music Circuit 2013
In celebration of all that is music and its intrinsic link to design, Design Indaba 2013 has curated another festival first for the city. In what can be described as "a musical tour" of Cape Town, Design Indaba is putting on a host of musical experiences set in multiple spacious and intimate venues across as many musical genres as you'd care to name, over three days.
"After last year's joint venture with Spain's Sónar festival, we set about thinking of ways to reimagine a music festival for this year," explains Design Indaba founder Ravi Naidoo. The result is our inaugural Design Indaba Music Circuit.
32 music acts (of which three are international), have been confirmed. As with previous Design Indaba music events, the diverse lineup of acts reflects a combination of musicians, producers and DJs, both long established and rising stars. The deciding factor behind curation is that their art must be unique or pioneering in their chosen field of music and wholly representative of the "sound of South Africa".
Each venue has also been handpicked as being true to its core audience.
So whether it's absorbing the spectacle of South African jazz legend Hugh Masekela together on stage with American jazz-fusion rock pianist Larry Willis in the intimacy of The Mahogany Room jazz bar (limited to 50 seats), or getting sweaty on The Assembly's dancefloor to 10SUI (UK), Spoek Mathambo, Haezer, Gazelle and Niskerone, the Design Indaba Music Circuit will truly cater to even the most discerning music lover.
Members of the public can buy presale tickets to each individual event online at designindaba.com/music.
Music Circuit Programme
Aces 'n Spades
Design Indaba Music Circuit 2013 kicks off on Wednesday 27 February. The first public event is a free gig at Aces'n'Spades (62 Hout Street, CBD) at 20:30. Swamp-rockers The Dollfins perform alongside retro-rock stars Taxi Violence and current darlings of the experimental-indie scene Beast.
Jade Champagne Bar & Lounge
On Thursday 28 February, the party moves to Jade (39 Main Road, Green Point) at 20:30, with live sets by Jade's resident DJs. No cover charge.
Zula Sound Bar
Also on Thursday, at 20:00 over at Zula (98 Long Street, CBD), things get eclectic with The Nomadic Orchestra (think: gypsy wedding party band) and The Brother Moves On (Johannesburg art collective that also makes music). Later Canadian-born South African lyricist Zaki Ibrahim blends beats with Mr Sakitumi's world-renowned sense of electronic sound composition, before DJs Fletcher and Honey B take the stage for a vision of where bass-driven dance music is headed in 2013 (and beyond). A second stage at Zula hosts singer-songwriter Joshua Grierson, followed by the electro-rap stylings of Jam Jarr and the indie-electro groove of DJ Tommy Gun. Entrance is R100 p/p. Online ticket sales are open.
Live jazz at The Mahogany Room
On Friday 1 March 2013, a very special musical event takes place on the Music Circuit. South African jazz legend Hugh Masekela will appear on stage with American jazz-fusion pianist extraordinaire Larry Willis at The Mahogany Room (79 Buitenkant Street, Gardens), for a once-in-a-lifetime jazz maestro's jam session. One set is open to the public, limited to 50 seats each, at 18:30 for 19:00. Tickets cost R200. Book early to avoid disappointment.
The Waiting Room
The same night The Waiting Room (273 Long St, CBD) plays host to the sounds of techno-house DJ Floyd Lavine (recently returned from London) and Anthea Scholtz (lady techno DJ with a smooth touch). Pieter-Jan Pieters, also speaking at Design Indaba Conference, is here from Belgium to construct sounds for feet to dance to as part of DJ duo Obscure. To end the night Hyphen drops heavy bass on fans of D&B. Entry is R50 p/p and doors open at 20:30. Limited capacity so buy tickets now.
The Assembly
Also on Friday at 20:30, the Music Circuit presents The Assembly (61 Harrington Street, East City Precinct) and an entertainment lineup that's a who's-who of the local electronic music scene – gone global. From the UK, the "first lady of breaks", 10SUI, brings her feminine charm and electronic soul to the dancefloor. Spoek Mathambo (also speaking at Design Indaba Conference) then takes over to show us why he's our current hottest global music export. Haezer will later display his musical mashup skills before the finely tuned synth-pop Afro-disco that characterises Gazelle truly gets the dancefloor loaded. To end the night Cape Town's best-loved drum and bass hero Niskerone sees the party through to its logical conclusion. Entrance to this event is R100 p/p. Buy tickets online.
Expo Events Arena
On Friday evening from 18:00 to 20:00 visitors to Design Indaba Expo will also experience a taste of the Music Circuit as the DStv Events Arena plays host to several live performances by a selection of artists and bands. Tickets to the Expo are R70. Opening hours: 10:00 to 20:00.
Design Indabar
Further to all these events are a series of shows hosted during Design Indaba Conference in the outdoor area opposite the CTICC, at the pop-up bar-meets-mobile trailer that is Design Indabar. These shows feature a host of South Africa's premier musical talents and are exclusive to Conference delegates and Design Indaba Expo exhibitors.
On Wednesday 27 February Design Indabar will host The Plastics, AF.Botz and Lady M. On Thursday 28 February Wild Eastern Arches, Kimon and Mix n Blend take to the stage. On Friday 1 March look forward to Mann Friday (Rob Burrell unplugged), Bilderberg Motel and Toby2shoes. These shows start at 17:30 after each day of the Conference.
For artist images, interview requests and accreditation submissions, please contact press@designindaba.com
Watch the Talk with Hugh Masekela