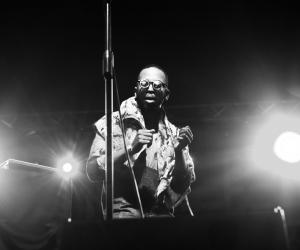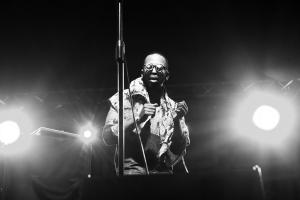 Standard
Spoek Mathambo is the stage name of South African musician (singer, rapper, producer, DJ) Nthato Mokgata. At the vanguard of a new wave of African artists, Spoek Mathambo is hitting the world hard with his take on Afro-futurism. His unique vision of electronic music infuses futurism with a strong sense of pride in where he comes from. It is clearly African music, but like nothing that has been heard or made before.
The Johannesburg native started rapping at the age of 10 and was as much influenced by 90s American rap, as the growing wave of Johannesburg rap most energetically exhibited on the YFM radio show, The Rap Activity Jam. Spoek Mathambo made his entrance into the music industry when he moved to Cape Town in 2003, through a long creative collaboration with the already-prominent South African DJ, Sibot, who mentored the young artist and helped him develop his skills as a recording and performing artist.
In August 2010 Spoek Mathambo released his debut album Mshini Wam with BBE Records, which would begin to hint at the artist's width of styles and influences. With Mshini Wam, Spoek Mathambo coined the genre/style "Township Tech", a way of describing his own work, as well as that of his contemporaries in furthering the soundscape of South African house music. The Mshini Wam album garnered much critical and fan acclaim, which was partly due to the vibrant music videos that were released in support of the music.
Spoek Mathambo has toured extensively in the USA, Argentina, Brazil, England, France, Germany, Poland and Portugal. In 2011 Spoek Mathambo signed a multi-album deal with the legendary Seattle-based imprint, Sub Pop (Postal Service, The Shins, Nirvana, Beach House, Coco Rosie) and has already completed work on his sophomore album, which he produced and recorded between the USA, South Africa and Sweden. The resulting album, Father Creeper, signaled the maturing of Spoek Mathambo's artistry, having undertaken more production duties on the project as well as having recorded with his live band.
The end of 2012 saw Spoek Mathambo being nominated, for the second consecutive year, for a MOBO (Music of Black Origin) award in the best African Artists Category - alongside music industry heavyweights DBanj, Beyonce, Jay Z, Kanye West and Rihanna. Other noteworthy awards include Spoek Mathambo's music video for the song Control, directed by Pieter Hugo, winning a Young Director award at Cannes and a gold Loerie.
Following the awards Spoek Mathambo came back to South Africa to promote the release of his third album "Future Sound Of Mzansi" in collaboration with Sony Music Entertainment. The year 2012 ended with Spoek Mathambo putting his signature on the composition of the soundtrack for the noir thriller Black South Easter. The film directed by Carey McKenzie and produced by Tendeka Matatu due for release mid 2013. The credit track is a collaboration with Zolani Mahola.
Spoek Mathambo is currently working on a documentary on the landscape of electronic music in South Africa. "The Future Sound of Mzansi" is due for release late 2013.
Joining Spoek Mathambo on stage is The Smarteez, The Brother Moves On and Bogosi Sekhukhuni, creatives all working at the intersection of fashion-art-music-film-design.
Spoek Mathambo believes these artists, his contemporaries, represent a new form of cutting-edge, cross-disciplinary South African innovation. Its accessibility to the masses is what makes these innovations and collaborations particularly noteworthy.
Here's a quick look at the artists that will be joining Spoek Mathambo on stage:
Bogosi Sekhukhuni
A product of the Rainbow Nation, Bogosi Sekhukhuni is a visual artist and writer based in Johannesburg.
Sekhukhuni works with video, installations and performance mediums in constructing and deconstructing various mythologies. Much of his work is also engaged with post-apartheid urban South African experiences.
Currently Sekhukhuni is studying visual art at the University of Johannesburg and developing a body of work that interrogates various Eurocentric manifestations of wealth and success adopted by middle-class and aspiring middle-class black South Africans.
Sekhukhuni has exhibited work alongside the likes of Kudzanai Chiurai and Steven Cohen.
The Smarteez
Playful, colourful, edgy, vintage-meets-new, The Smarteez are a "DIY fashion crew" from Soweto, celebrating a new cool.
This new cool, according to designers Kepi Mngomezulu, Sibu Sithole, Floyd Manotana and Thabo Tsatsinyane, is about changing mindsets while reviving the old to make it appeal to a new age.
Driven by free will and principles of individualism, The Smarteez are a South African fashion tribe, not unlike Tokyo's underground style phenomenon, that have earned and maintained their street cred.
In their own words: "Think about your life without any boundaries. Not trying to be like anyone else."
Music shapeshifters The Brother Moves On is a Jo'burg-based, site-specific, art and music collective, and self-described " time and space exercise". They bend the rules of performance art, fusing a fiercely eclectic mix of musical styles, influences and sounds with costumes and storytelling to create a distinctly South African act.
The group see themselves as an experimental performance art/music/storytelling collective in which members come and go – or "move on". This "moving on" is reflected in the group's evolving sounds, ensuring that the energy and momentum of the collective isn't dependent on any one member.
The Brother Moves On members are Nkululeko Mthembu (band founder), Siyabonga Mthembu (lead singer), Raytheon Moorvan (guitarist), Zelizwe Mthembu (guitarist), Simphiwe Tshabalala and Ayanda Zalekile (bassist).