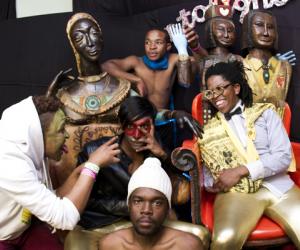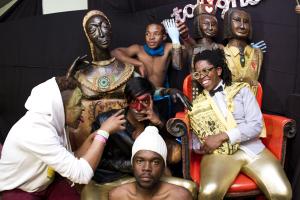 Standard
TBMO bend the rules of performance art, fusing a fierce mix of post-folk rock, funk and psychedelia with theatricality and storytelling. Most of all they rock and from Rolling Stone to Mahala, the Mail & Guardian to okayafrica.com people are tuning in.
Their mission: to seek out new ways to destroy your pre-conceived notions of what performance art should look, sound and feel like. Not for them the tried-and-tested formula of what it means (and takes) to be a band on stage. (Or even what a stage means!) For them, all musical genres, all fashion trends, all colours and all the people in their (growing!) audiences are there to be messed with, teased a little, challenged, and otherwise altered; you know, real performance art, but on another level.
Theirs is transition music for a transition generation, experimental and expressive, played in unique spaces from museums and churches to derelict buildings and inner-city rooftops.
TBMO want to create a new kind of sound: "brown baby music". It's not black, it's not white and it doesn't play to racial stereotypes. Instead, it affirms the evolution and identity of a new generation of South Africans who are also global citizens.
The current incarnation of The Brother is represented by Siyabonga Mthembu, a lyricist who is more of a story-teller than a classic rock-band front man. Two guitarists accompany him, Zelizwe Mthembu and Raytheon Moorvan, whose styles drift seamlessly from traditional jazz to contemporary psychedelic. The rhythm section champions the team with Simphewe Tshabalala on Drums and Ayanda Zalekile on Bass guitar. All musicians do backup male choral vocals. The alliance that is The Brother Moves On would not be complete without Nkululeko Mthembu who put the outfit together, composes music, designs stage props and costuming, invents much of The Brother thematic and generally keeps the Brother's moving.
TBMO's debut single 'Yakhali'mbazo (The Sound Of The Axe)' and first EP, The Golden Wake, are available for free download at Bandcamp.