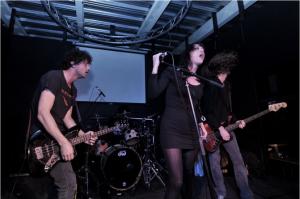 Standard
"Honest rock 'n roll played at high volume" is how the group describe their work.
Beast's noise started as an experiment in late 2011 when Louis Nel and Rian Zietsman acted on a shared desire to learn to play bass guitar. "What would a band with two basses sound like," they wondered?
Nel and Zietsman then approached Sasha Righini to join them on drums. He took to thesound immediately. After recording a jam session, the boys were booked for their first show. But they wanted a vocalist, a female vocalist.
Throughout their experimentation phase Nel and Zietsman had been talking to Inge Beckmann and wanted to invite her when the sound was right.
Beckman joined them for their first show and felt an exciting connection with the project. And so BEAST was born.