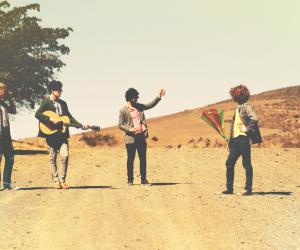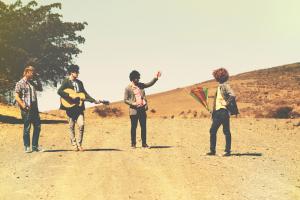 Standard
Cape Town indie stereo kids The Plastics are remarkable in that they continue to exceed expectations of what "indie" music is, was, or should be.
To say that this band is well-liked is a gross understatement. Their fanbase has been cultivated over the years through releasing quality songs, albums and music videos that define "the norm" for South African rock bands. Maybe it has something to do with the fact that they spring from punk band roots, or the fact that they believe they are here to take over the world. Whatever it is, they are determined to make sure a Plastics gig is a fun occasion. You will want to dance. You might even want to take your clothes off. Be there when they launch the Design Indaba Music Circuit 2013 by being the first band to play. Design Indabar, Wednesday 27 Feb at 17:30.
Official bio:
Karl Rohloff (bass) is a classically trained, vegetarian guitarist. Sasha Righini (drums) has incredibly vivid dreams and a pretty neat doodling style. Arjuna Kohlstock (lead guitar) likes pop music. He has one brown and one green eye. Pascal Righini (lead singer/guitar) knows an incredible amount of trivia on The Simpsons and cricket He also grows his own tomatoes.
What more do you really need to know?
The Plastics began in 2007 as an evolution of punk band Hoax. It's now its own thing.
Words to describe their music, experiences and work ethic include "innovative", "Earl Grey", "guerrilla", "disco SOMETHING", "retro rock" and "melody", amongst others. That's not a joke.
Along with a cult following that tends to turn their sentences into acronyms and get the dance floor riled up, The Plastics set out to take over the world, or at least play some pretty damn good gigs along the way. 2008 saw the release of the band's first EP, The Plastics, followed closely by another one, Kiss The Plastics (2009). Both were distributed among Cape Town's indie elites and head bangers for free.
The band likes to do things differently. They've had friends in gorilla suits running down streets. They've launched an EP at an invite-only mother of all house parties. They've done off-beat covers, collaborated with some of Cape Town's finest, woken the Mother City up at 6am on morning television show Expresso and chilled with Nicky Greenwall on ETV's The Showbiz Report. For their double music video launch at Mercury Live Lounge they had bags of beach sand brought in to create an island feel inside the club. At Rocking the Daisies in 2009 they headlined. And how did they celebrate? By having guys dressed up as robots cavorting onstage with them. They are quirky.
The rest of 2009 was a blur of releases (second EP Kiss The Plastics, music video launch for "Dirty Dancing" and "Tiny Islands"), gigs, a headline slot at Rocking the Daisies. Always a busy band. Then in 2010 they broke things. Glasses, drumsticks, boundaries; they enlisted the help of eccentric and brilliant music producer Gordon Raphael to work some music magic on their debut album SHARK. Mr Raphael worked with American indie-rock band The Strokes on two of their albums including Is This It (voted Best Album by NME and No.2 Best of the Decade by Rolling Stone) and Room On Fire. Bag of tricks, synth and piano licks – he brought it all to the party.
Raphael and The Plastics spent a few weeks recording at Sound and Motion Studios, Cape Town. The album was released 31 July 2010 at a mayhem launch at a well-known live gig venue, The Assembly, and made some waves (yes, that's a play on the word). The first single, "Caves", was released to radio stations around the country and enjoyed extensive campus and commercial radio airplay. It reached No.1 on TUKSfm SA Top 10. The second single, "Jukebox", sat nice and snug at No.1 for four weeks running on Jon Savage's Rock Chart on 5fm.
November 2011 saw one of the band's songs, "Those Three Words", as the bouncy and romantic soundtrack to one of Apple's iPod commercials. SHARK was also chosen by both GQ Magazine and Cosmopolitan as one of the Top 20 Albums out of local and international releases. These boys found themselves in some good company indeed.
The first music video off the album was for "Caves" and was directed by talented young directors The Morcos Brothers. They're Academy Award Nominees and used their skills and pedigree to create a unique and widely acclaimed one camera shot dance-a-rama. The video can be seen on DSTV's MK, channel 324. In January 2011 it was chosen as one of the top eleven finalists for the Los Angeles Music Video Festival.
The second single off the album SHARK, "Caroline", released August 2011, reached No.4 on the MK Top 10 Music Videos Chart. There's lots of making out in it – you should see it.
The band spent the rest of the year exploring. Literally and physically. They released a remixed version of "Jukebox" (by Jaysynth and Sassquatch) and toured to the north of South Africa where they appeared on MK's Studio 1 show.
In December 2011 a reprised version of "Stereo Kids" was released receiving high rotation airplay and is currently at number 8 on 5fm's Top 40 chart. In March 2012 they opened for Irish indie-rock band Two Door Cinema Club at a secret location in Cape Town. The secret: an abandoned building in the middle of Philipi. 3000 people were bussed into the heart of Philippi. Not a secret: it was a pretty bad-ass gig.
The Plastics are heading into Dreamspace Studios in May 2012 to record the follow up album to SHARK and have just released a music video for "Stereo Kids". Look out for it!