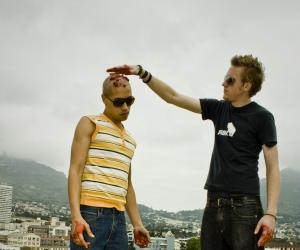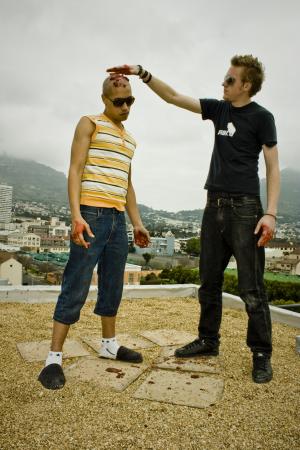 Standard
A spasm of electronic, a shiver of dirty, filthy, salt up your nose kinda bass. Jam Jarr is a glitch-rap duo made up of Soundproof and Waykin Bakaman, and they're here to tear your eardrums asunder with a cache of tracks ranging from dubstep to glitch-hop, and all the other beat-stops inbetween.
Their first EP - "Fat Fruit" - was released on African Dope Records, as was their second - "I Am The Danger", not to mention their third - "Suck My Underground"
Soundproof and Bakaman also released an EP in collaboration with Dutch record label "Subfinity Records", in conjunction with 'Process Rebel' was released in 2011, as well as featuring on an African Dope Compilation, a Red Bull Studio Sessions TV, and being heroes to medium-sized dogs all around the world.
Jam Jarr is - One producer, one MC, a bag full of death-defying bass and a tongue-lashing rap festival, all taking place in a circus clown car with no shock absorbers. If it's festivals and clubs you want, they've played at a ton: Rezonance, Earthdance, The Tunnels, The Village, (and many other funny names), The Assembly, Fiction, The Cape Town Castle. They've gone to Johannesburg, Mossel Bay, Grahamstown... it's all in there.
Soundproof, also known as Rubix Qube, Phat Planet and a part of Biorythm brings the beats that he's been putting together for the last decade and more. He's making tidal waves in the trance scene and is travelling internationally on a regular basis for his flagrant skills. (Portugal, Australia, USA)
Waykin Bakaman is a rhyme slayer of note, also known as MCynic, Shimmy Fazaa, and YOUR MOTHER. Yet to bring out his first EP (scheduled for mid 2011), some people call him a lazy bastard. While in fact, he's the kind of guy that'll get your grandmother into rap music, he's also your girlfriend's worst nightmare and the man to make you realise you and your friends can't rap.