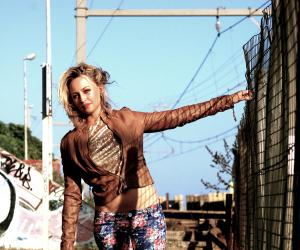 Standard
Lady M is based in Cape Town and plays a unique and intelligent electronic sound, continuously earning herself recognition and becoming noted as the country's leading and original female artist in the genre of deep house and deep tech. She initially began playing on vinyl in her late teens and moved onto hosting residencies at various cocktail bars before making her mark on the nightclub circuit.
Today she has embraced the digital era and performs using Serato Scratch Live, using either cd players or turntables. Whether indulging and laying out groovy downtempo beats, house or techno, her sound is deep, bass driven, percussive and melodic. She enjoys experimenting within the darker realm but is versatile within her genres and has the innate ability to balance the feminine with the masculine in her sets. The result is an inviting sound that offers an explosive journey for both body and mind.
With a need for challenge and to get to the source, she studied Advanced Music Production and is currently working hard in her home studio and is also a frequent at the Red Bull Studios. The result is a true Lady M sound that is an expression of purely her and her love for the electronica. She is also one of the very few female artists in South Africa to be producing, with her first EP coming out in February 2013.
The past year has brought on many new ventures for Lady M, playing her sultry sounds everywhere around Cape Town and now on the national circuit, putting her up there with SA's serious and best alents and also fitting the bill for internationals such as Inland Knights, Jordan Peak and Stimming.
She has recently become part of the Make Believe crew where she plays at their unique location events and is represented alongside some of Cape Town's finest house and techno artists. In 2012 she indulged herself in an European sonic education where she played in Amsterdam and Berlin and took in the international techno scene and culture. She is currently enjoying summer in and festival season on home soil, fine-tuning her performances and focusing on production.
Recent gigs and venues include; Pacha New Years parties, Design Indaba Afterparty, Butterbox and Melt parties, Make- Believe events, Hype Media events, Love Peace Techno parties, Equinox events and Equinox Outdoor, Together, Cold Turkey, Goldfish Submerged Sundays, Redbull Studio Nights, Kinky Disco, Earthdance Cape Town, Rocking the Daisies, MCQP, Chukkachurri (Greenpoint), Fiction Bar (Cape Town), Origin (Durban), Supperclub (Amsterdam), Conservatorium Hotel (Amsterdam), Cafe Rita (Berlin).