In 2011, renowned designer Richard Seymour asked: Do we actually think beauty, or do we feel it? Design Indaba's annual search for the Most Beautiful Object in South Africa asks this question of some of the country's most influential personalities – and then asks the public to vote for a winner.
What is Most Beautiful Object in South Africa?
The Most Beautiful Object in South Africa is a yearly competition aimed at facilitating discussions around beauty and the public's perception of it. Ten celebrity influencers nominate what they think is the Most Beautiful Object in South Africa, and the public then votes for their favourite object. Last year, nominators like fashion designer Sindiso Khumalo and television presenter Katlego Maboe nominated the Kassena Town Cabinets by Dokter & Misses and the See-Saw-Do social enterprise respectively. But it was the shawl created by Laduma Ngxokolo that took top honours. This year, we find and feel beauty in animation, furniture, sculpture and more.
2017 will see the Most Beautiful Object in South Africa competition culminate in an exhibition held in Cape Town during Design Indaba Festival in March.
The exhibition will be open to festival-goers throughout the Design Indaba Festival, from early morning until the afterparties die down late at night. The public can view the exhibition as part of the Design Indaba Nightscape programme at the Artscape Theatre Centre each day from 1 to 3 March from 17:30, with a special insert on the First Thursdays event, or enjoy a free visit on Saturday 4 March from 10:30 until 16:00. Tickets to Design Indaba Nightscape are available online for R80 or R200 for a 3-day pass, or R100 per night at the door.
Meet the nominators and nominees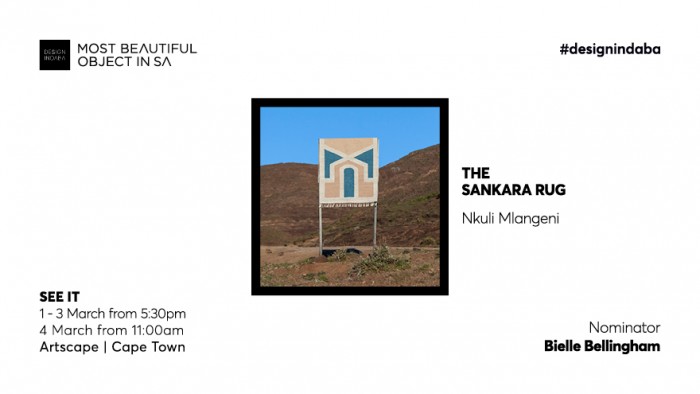 Bielle Bellingham, afro-optimist and Creative Director of Cordova Productions, has nominated The Sankara Rug. The piece was designed by Nkuli Mlangeni, founder of The Ninevites, a collaborative project and platform to explore and celebrate black aesthetics. Bellingham said that the unique rug elegantly weaves tradition and the future, craft techniques and technology, 'Africaness' and global appeal.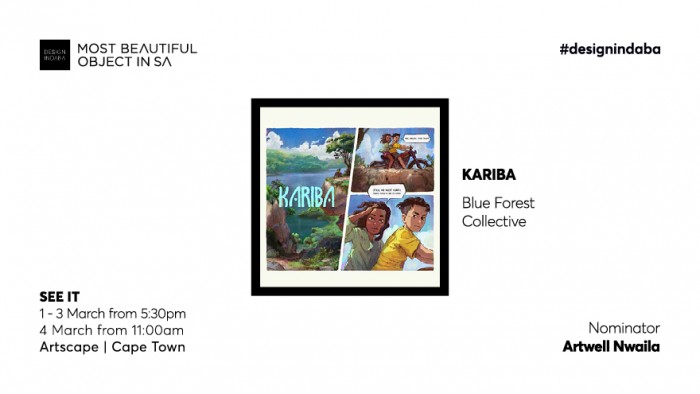 Founder of the award-winning platform SA Creatives Artwell Nwaila throws his weight behind Blue Forest's Kariba, a viral teaser created ahead of a feature length film that promises to be completed in 2017. Based on a graphic novel that harnesses both mythology and history, Kariba has captured the imaginations of storytellers around the world. "I think it's fascinating how few seconds of beautifully crafted animated material has sparked so much excitement. I also love the African story that is being told," says Nwaila.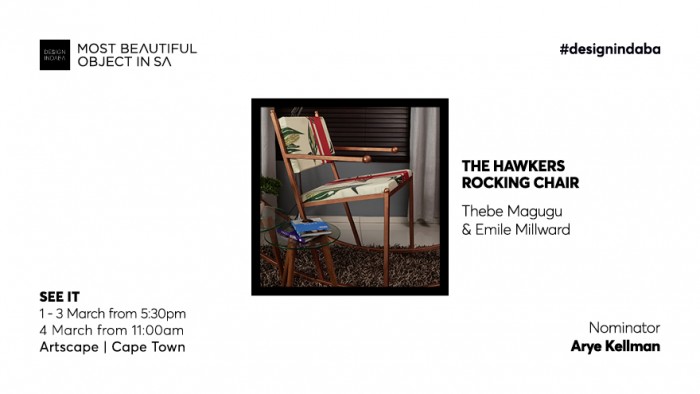 The women selling their wares in downtown Johannesburg inspired renowned fashion designer Thebe Magugu to create The Hawker's Rocking Chair. In collaboration with craftsman Emile Millward, Magugu designed a chair that ties into his fashion range in a poetic way. Its nominator, Creative Director and Radio Broadcaster at CliffCentral Arye Kellman says that the crossing of disciplines creates a seamlessly integrated message, which "exercises non-confined creativity in its purest form."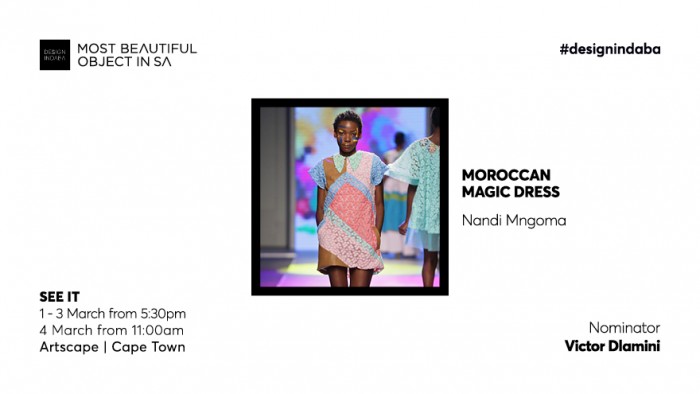 Writer and photographer Victor Dlamini believes that the subtle hues of the Moroccan Magic Dress have put it in the running for the Most Beautiful Object in South Africa. Designed by Nandi Mngoma and Inga Madyibi, the Moroccan Magic Dress is an example of delicate sensibility. According to its designers, it's a singular look that is at once fresh, feminine and reinforces the importance of collaboration.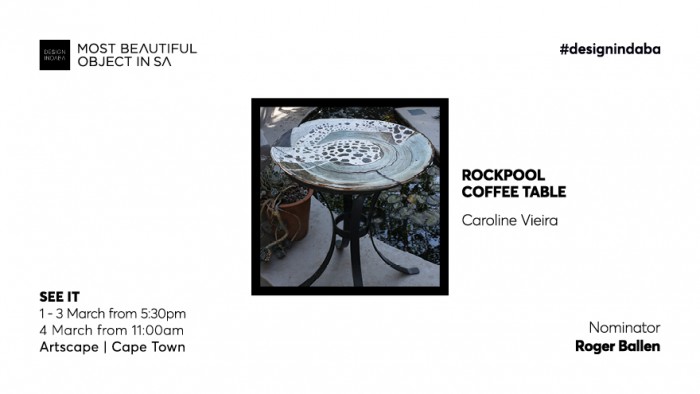 Photographer Roger Ballen has nominated a seawater and rockpool-inspired coffee table made by ceramics guru Caroline Vieira. The ceramic tabletop is one of a series of platters and tiles that play on the 'rockpool' theme. Using her signature combination of oxides and glazes atop a ceramic surface, Vieira replicated the movement of seawater and foam over a rock surface to create this distinctive piece.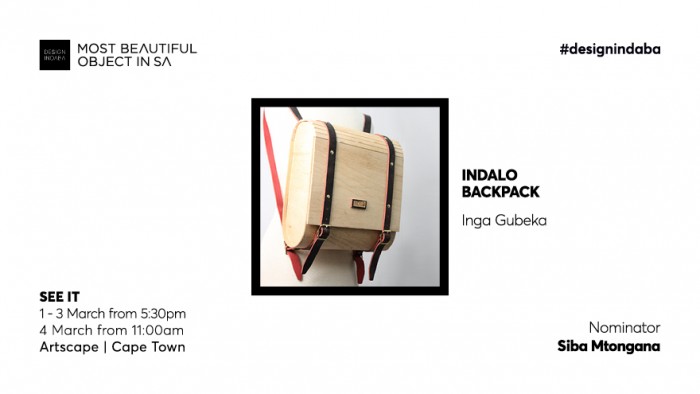 Celebrity Chef Siba Mtongana finds the utmost beauty in what media sources have described as one of the most unique and interesting products in the country right now. The wooden cylindrical backpack called the Indalo Backpack was designed by Eastern Cape entrepreneur Inga Gubeka. All Gubeka's products are made out of eco-friendly woods and leathers.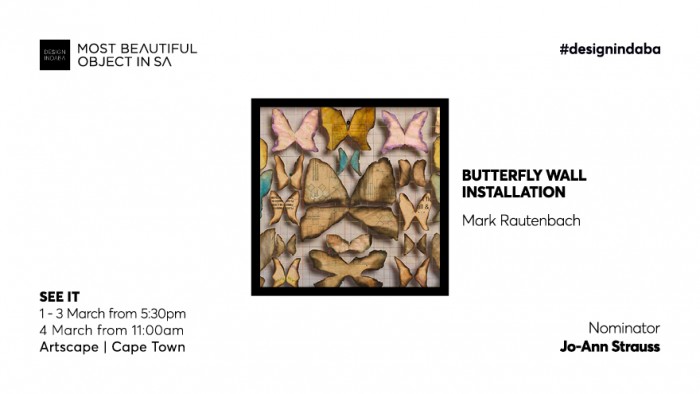 Media entrepreneur and presenter Jo-Ann Straus nominates the Butterfly Wall Installation by KwaZulu-Natal artist Mark Rautenbach. Inspired by the concept of a late 19th century industrial, classy gentlemen's club, the installation is made up of entomological specimen boxes that explore the relationship between the sweetness of butterflies and the destructive nature of fire. The Butterfly Wall resides in Luke Dale-Robert's newest restaurant, The Shortmarket Club.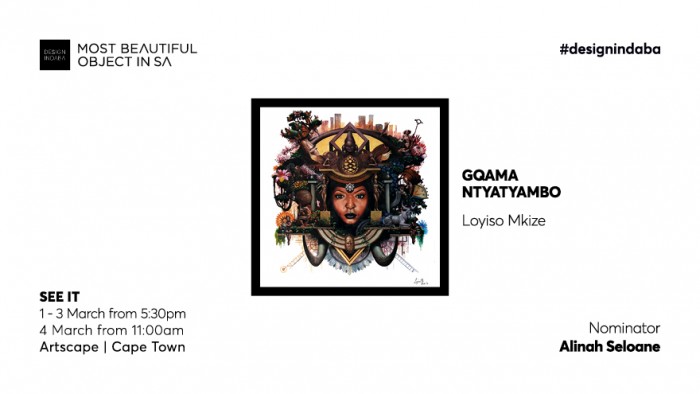 Director of ASM Fashion Consultancy Alinah Seloane Missouri's career has been shaped by her love for fine design. This time, visual artist Loyiso Mkize's surreal artworks have caught her eye. When he isn't working on Kwezi, South Africa's first black superhero comic book, he is creating multimedia works like "Gqama Ntyatyambo" that explore the complex nature of African culture.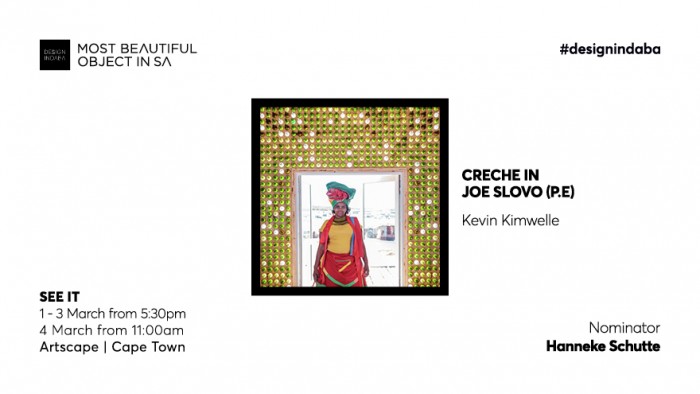 Love Story, an NGO in Port Elizabeth, launched a project to help build a creche in the impoverished community of Joe Slovo. Designed and built by the architect studio Collectif Saga, in partnership with Indalo and Love Story, the new creche is an example of how "innovative thinking, collaboration and beautiful design can transform the lives of an entire community," says its nominator, award-winning filmmaker Hanneke Schutte.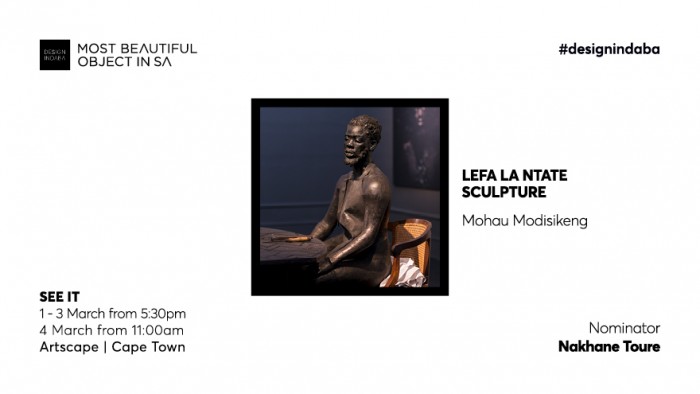 Johannesburg-based artist Nakhane Toure nominates a sculpture by renowned artist Mohau Modisakeng. The piece was crafted to represent Modisakeng's own likeness and forms part of a larger, travelling series, Lefa La Ntate, that features self-portraiture and full-length sculpture.