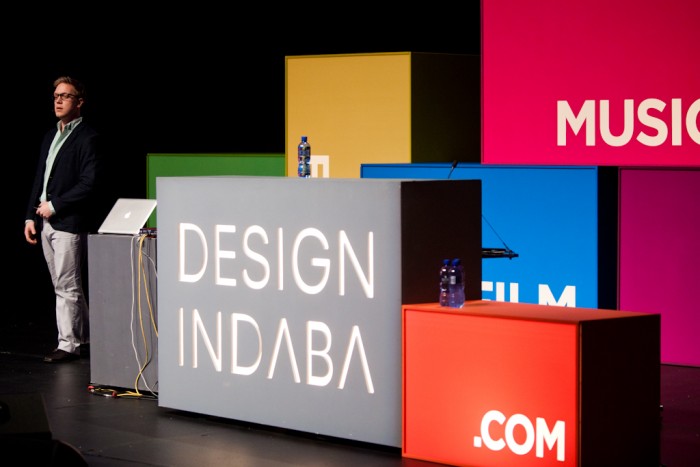 Design Indaba, now nearly 20 years running, is a multifaceted platform committed to a better world through creativity, dubbed "The Best of the World's Creativity", and is puncuated by the annual conference.
The inspiring gathering draws an international audience of roughly 3 000 attendees, who are treated to a series of renowned and revered speakers (and this guy) in one plenary shared stage format for three days. It is by far the largest design conference I've ever been to, and likely the largest one I even know of, even though it has a relatively small profile in North America, which to be honest was incredibly refreshing. To be made aware of the world of design and creativity outside of the NYC, San Fran-centric ecosystems we're privy to in North America was a real eye-opener, and one of many many more…
My presentation lasted all of seven minutes, and was part of a Pecha Kucha segment along with other colleagues and "top graduates" (who thankfully all also happen to be fantastic people) from seven design schools around the world, including the Royal College of Art, Design Academy Eindhoven, Parsons: The New School, RISD, and ECAL.
Having the chance to share the stage (and many a South African wine) with some legitimate legends in the world of design like Paula Scher, Seymour Chwast, Louise Fili, John Maeda, Matthew Carter, David Adjaye, Sir John Hegarty, as well as exciting up and comers like Jessica Hische, Daisy Ginsberg, Ben Terret, Asif Khan, Alex Chen, Daan Roosegaarde, all my fellow graduates from some of the best schools in the world, and so many more was humbling, I guess humbling is how this feeling's described, but it's nowhere near the sentiments it instilled… Being given free rein to share my thoughts, my passions, my interests in front of 3 000 people in the auditorium, thousands more via live simulcast, and tens of thousands more the next morning on Cape Town's premiere morning radio show "Cape Talk" was a surreal experience that left me with many thoughts…
In no particular order, here are the lasting ones.
What does it mean to be a good designer vs a good showman? Common sense and faith would ensure that being genuine, sincere, talented, and aware will ultimately lead to success, but in an industry as susceptible to "sex appeal" as design, does that necessarily translate to career success? While everyone speaking at Design Indaba was supremely talented, this feeling is still one you can't help but get when watching presentations, and the resulting crowd reaction. Showman=satisfied happy crowd=more exposure=future high exposure=big work?
On that note, what is design? May seem like a stupid question, but at Design Indaba we saw a chef, a scientist, architects, graphic designers, typography designers, industrial designers, advertising gurus, and so many more… Is design a catch-all for any creative discipline?
In the opening address, participants were warned not to judge speakers by whether or not they had heard of them. That proved to be incredibly true… My personal favourites were presentations by individuals I hadn't heard of before, such as Alexander Chen (Google Glass UI and so much more), Ben Terret (Gov.uk) , and although I did know his story, John Maeda (RISD, STEAM).
Presentations (and for that matter designers) range from "here's what I think" to "here's what I do". Presentations at Design Indaba were no different, and the full spectrum was represented. Not to say that doers don't think, and thinkers don't do, but the difference between the personalities of the two was definitely on display. For an audience of this nature, the most impactful presentations straddle the two, and are neither a portfolio display, or a philosophical diatribe. Is the right share your actual thoughts a license you need to earn after a long period of doing? Do you need a large body or history of work before people actually care about what you think? In this context, thinker=John Maeda, doer=Louise Fili.
Never before (and likely never again, and whether justifiable or not) have I been treated with such respect, admiration, and care. The entire crew at Design Indaba is so ridiculously on top of everything, ensuring that you're treated like royalty. The experience has left me feeling somewhat guilty indulging in such fineries, but when you're presented with an opportunity like this, take a deep breath, check your ego at the door, and soak it up. What a treat. Huge thanks to Ravi Naidoo as well as the entire Interactive Africa crew who made this experience so incredibly informative, inspirational, and educational. I'm eternally grateful for the experience, and sincerely hope to see you all again very soon.
South Africa is such a complex, beautiful and true rainbow nation with such a colourful history and optimistic future. In many ways, it feels like such an appropriate representation of the continent as a whole. Skyscrapers shoot up a couple km away from corrugated metal huts. It's multicultural, contemporary, real, and hopeful.
Aside from the learning, there will be plenty more fall-out from this trip, including some new connections which will hopefully bear fruit, and an upcoming Herdmag article. In a matter of months, the video of my presentation will be polished and ready for sharing.
Thanks for reading, and stay tuned…
Watch the Talk with David Adjaye
Talks
• Duration: 00:43:07
•
9 May 19