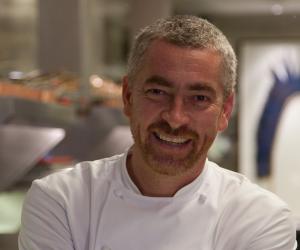 Speaker
When Alex Atala opened his restaurant D.O.M. in 1999, he made a decision that was to change the history of modern Brazilian cuisine.
Atala wanted to change the way his nation was considered on a plate and believed ingredients like acai, pupunha or cupuacu to be the very essence of Brazil and that their uniqueness should be celebrated.
Having trained in Europe at the École Hôtelière de Namur in Belgium, then in some of finest Michelin restaurants in Italy and France, he realised, without ready access to the supply of quality ingredients he would never be able to truly translate European food on a gastronomic level back in Brazil.
In 1999, he opened D.O.M. (from the Latin, Deo Optimo Maximo – God is Great and Exceeding – good in his wisdom and exceeding in his kindness) in Sao Paulo, not only to create an exceptional gastronomic experience using local ingredients, but one that captured the flavours, colours, textures and even smells of what it was to eat in Brazil.
In essence, Atala applied European techniques to Brazilian ingredients creating anything up to 20 course tasting menus that included, for example, Palm Heart Fettuccine; Pirarucu with Tucupi; and Banana Ravioli with Passion Fruit Sauce and Tangerine Sorbet.
D.O.M. was soon to become Brazil's most famous destination restaurant with Atala winning numerous awards including Chef of the Year and Best Contemporary Cuisine by Veja Sao Paulo and Chef of the Year and 3 Stars on Guia 4Rodas.
Developing menus with a strong presence of native ingredients required time and research. Some of that research had been far-reaching into the Amazon rainforest.
Over the years, with the help of the Social Environmental Institute, Atala has worked meticulously with scientists and anthropologists to discover and classify foods and document new products from the Amazon region, with minimum impact on both forest and people.
Without a doubt, Atala's unbridled creativity, passion and dogged ambition for Brazilian produce and ingredients, is tempered only by his sensitive, sustainable and intelligent methods in cultivating them.
His ambition now is to promote Brazilian produce on an international scale, and hopes that given time and the development of sustainable farming strategies, palm hearts and acai berries become as normal as pasta or blueberries in store cupboards throughout the world. His first product "Mini Arroz", an exclusive variety of rice by grower Francisco Ruzene, has already been launched under the brand "Retratos do Gosto".
In January 2009, he opened a second restaurant Dalva e Dito focusing on Brazilian heritage dishes based on home recipes.
He is the author of three books, Por uma Gastronomia Brasileira (Bei editora, 2003), Com Unhas, Dentes & Cuca (Editora Senac) and Escoffianas Brasileiras (Larrouse Brasil). His latest is due to be released by Phaidon in 2013.
D.O.M. has been continually listed over the past seven years in the The World's 50 Best Restaurants by the U.K. based magazine, Restaurant. D.O.M. presently holds 4th position on the 2012 list.