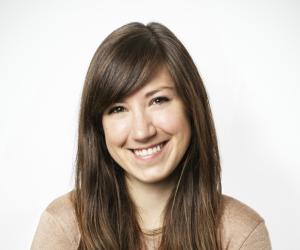 Speaker
Jessica Hische is a letterer, illustrator, and self-described "avid internetter".
After graduating with a degree in Graphic and Interactive Design from Tyler School of Art (Temple University) in 2006, she worked for Headcase Design in Philadelphia before taking a position as senior designer at Louise Fili Ltd. While working for Fili, she learned most of her skills as a letterer and spent upwards of 16 hours every day working (9 for Louise, 7+ for freelance clients).
Hische left after two-and-a-half years to further her freelance career and embark on several fun personal projects. She started Daily Drop Cap, a project in which she created a new illustrative letter every day, working through the alphabet a total of twelve times. At its peak, the site had more than 100 000 visitors each month. It culminated in a thirteenth alphabet, each letter crafted by a guest contributor.
Subsequently Hische has become as well known for her side projects as she has for her client work. While she doesn't consider herself a web designer, many of her personal projects are web-centric. She has created several educational micro-sites including Mom This is How Twitter Works, Should I Work for Free? and Don't Fear the Internet (with Russ Maschmeyer), each as entertaining as they are helpful. Hische coined the term "procrastiworking" to describe her tendency to procrastinate on client work by working on personal projects.
Hische's clients include Wes Anderson, Tiffany & Co., The New York Times, Penguin Books, Target, Leo Burnett, American Express, and Wired Magazine. She has also released several commercial typefaces, which are available in her store.
Hische has been named a Print Magazine New Visual Artist (20 under 30), one of Forbes' 30 under 30 in Art and Design, an ADC Young Gun, a "Person to Watch" by GD USA, and one of 25 Emerging Artists by STEP Magazine. She's been personally profiled in many magazines, including Eye Magazine (UK), Communication Arts, Grafik Magazine (UK), and Novum (Germany).
She currently serves on the Type Directors Club Board of Directors and divides her time fairly evenly between San Francisco, Brooklyn, and airports en route to design and illustration conferences.