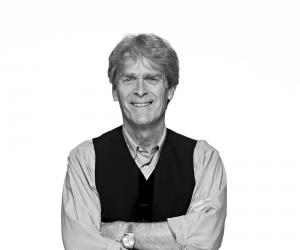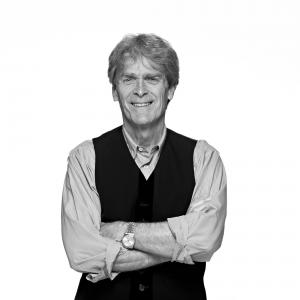 Speaker
Sir John Hegarty's creative career started in London in 1965 where he worked as a junior art director at Benton and Bowles advertising agency.
In 1967 Hegarty joined the Cramer Saatchi consultancy, which became Saatchi & Saatchi in 1970, where he was a founding shareholder. He left in 1973 to co-found TBWA London in the position of creative director. The agency was the first to be voted Campaign's (the UK's leading advertising magazine), Agency of the Year in 1980.
In 1982 Hegarty left to start Bartle Bogle Hegarty (BBH), which soon became one of the most talked about and awarded advertising agencies in the world. BBH has won every Agency of the Year accolade and every creative award possible, cementing their place at the forefront of the industry.
Click here to view a gallery of Hegarty's work.
In the first two decades of BBH's history, Hegarty was responsible for ground breaking campaigns for Levi's. The adverts featured an unknown model called Nick Kamen, who stripped off down to his boxer shorts in a launderette. Hegarty also brought music to the forefront in Levi's commercials with the result that soundtracks from seven Levi's commercials made it on the UK charts' number one slot.
The now-famous phrase "Vorsprung Durch Technik" for Audi was coined by Hegarty and continues to be widely recognised. Hegarty was the first to pick a young model/actor called Brad Pitt to star in a commercial, and oversaw the phenomenon Flat Eric, who kicked Eminem off the number 1 singles slot in 1999.
BBH now has offices in London, New York, Singapore, Sao Paulo, Los Angeles Shanghai and Mumbai with Hegarty overseeing the creative output of all these offices. This unique global structure also contributed to the company winning the Queen's Award for Export Achievement twice, in 1996 and 1997.
Hegarty has won Gold at every industry awards including D&AD, Cannes and British Television. He has been awarded the D&AD President's Award for outstanding achievement and was admitted to the US One Show Advertising Hall of Fame. He has also been voted as one of the most influential people in fashion, thanks to his work with Levi's.
In 1998 Hegarty was honoured with an Honorary Fellowship from the University of the Arts in London. In 2006, he was awarded honorary doctorates from Buckinghamshire Chilterns University College and Middlesex University. He also sits on the Board of Trustees of the Design Museum.
In 2007 Hegarty was knighted by Queen Elizabeth II in recognition of his services to the advertising and creative industries. He was also invited to be an Honorary Fellow of The Marketing Society for his contribution to outstanding communication campaigns.
In June 2011, Hegarty successfully launched his book Hegarty on Advertising – Turning Intelligence into Magic. In the same month, Hegarty was honoured for his creativity at the Cannes International Advertising Festival, being the first recipient of the inaugural Lion of St Mark's Award.
Click here to view a gallery of Hegarty's creative work. We look forward to welcoming him as a speaker to Design Indaba Conference, from 27 February to 1 March 2013.