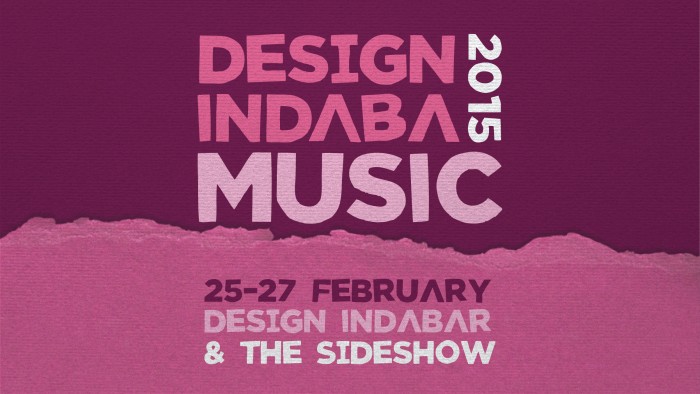 Design Indaba Music 2015
Design Indaba Festival 2015's music platform includes a series of world-class performances to celebrate music as an art form and a medium to spread the message of creative thinking. From 25 to 27 February, Design Indaba Music presents a diverse roster of African artists from genres such as experimental electronica, rap, house, jazz, R&B and a capella.
More info on venues, times, tickets and acts is available on the 2015 event page.
Headlining Design Indaba Music 2015 is Nástio Mosquito, a multimedia and performance artist from Angola named by The Guardian newspaper as one of "Ten African artists to look out for". He mixes music, videos, spoken word poetry and a cappella in performances that flirt with African stereotypes in Western contexts and that make powerful political statements. He has performed and shown his work at Tate Modern in London, the Venice Biennale and the 29th Biennial of São Paulo.
Also performing is Ghanaian rap artist M.anifest, fresh off a tour of South America with Damon Albarn. Described as "Ghana's rapper supreme" by Rita Ray of the BBC, M.anifest's originality, lyricism, flow and depth in content have made him one of contemporary Africa's most keenly watched musicians.
South African acts include:
Experimental electronic band Original Swimming Party, whose hypnotic sound is paired with large-scale visuals in their live performances.
Multigenre singer-songwriter Nongoma, based in Johannesburg but born and raised in Europe. Her sound ranges from melodic R&B to mellow, jazzy beats, soul, gospel and southern African traditional music.
RVWR, Cape Town-based producer and bass beatmaker who recently collaborated with Brooklyn-based MC Shamon Cassette to international acclaim.
Angel-Ho, the persona of Cape Town artist Angelo Valerio, who uses performance to start a dialogue about classism, identity, sexuality and gender.
DJs Jumping Back Slash and Duce Duce, who take to the decks together in a set that includes self-made graphics curated with a mash-up of found footage. British native now based in South Africa, Jumping Back Slash ranges from rave to kwaito to house to gqom. Duce Duce, aka Anthea Duce, is a founding member of Cold Turkey, and described by South African Marie Claire magazine as "an aural wizard".
Honey B, a DJ whose sets are focussed on fun, timeless music, one of the founding members of the iconic African Dope Records label (alongside DJs Fletcher and Roach).
A collaboration between and the first live appearance of fine artist Amy Ayanda and musician Thor Rixon. Their quirky sound combines Thor's otherworldly compositions and Amy's impassioned melodies.
Sakawa Boys, the Cape Town all-male band whose shoegaze/indie sound is fast gaining a dedicated following. Their track, "Lazy Eys", clocked over 2 000 listens in its first week on SoundCloud.
DJ Zulu Funk, aka Yona Vilakazi, an emerging DJ from KwaZulu-Natal's Ulundi, specialises in soulful and electronic house.
More info on venues, times, tickets and acts is available on our event page as well as in the official Design Indaba Festival app.