Each year, the Design Indaba Festival gathers a group of rising designers from around South Africa who exhibit their work as part of the Emerging Creatives programme. Not only does the exhibition provide a platform for the country's youth, but also an indicator of what's to come within the design industry – from powerful women, to impactful fashion and now, quirky graphic design.
These 14 Emerging Creatives are changing the game within the sector by combining their graphic design chops with unlikely materials, unexpected topics, vocations like fine art and more. Here's a taste of what the Emerging Creatives 2018 graphic design alumni had to offer.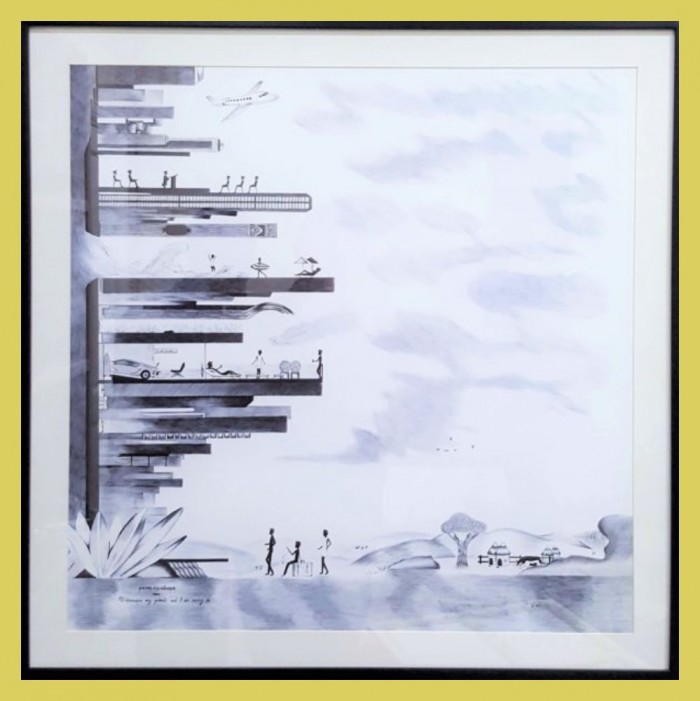 Punoo Masilwane is a visual artist and designer based in Johannesburg. Originally from Limpopo, the artist is affectionately known as Lucky, and his work celebrates the world around him. Decorex South Africa and the AboutFriends Gallery in Johannesburg have both exhibited his collections.
In a series titled About Friends, Masilwane created a unique story for each piece. The narrative centred on a message of togetherness and the art pieces showcase his signature style.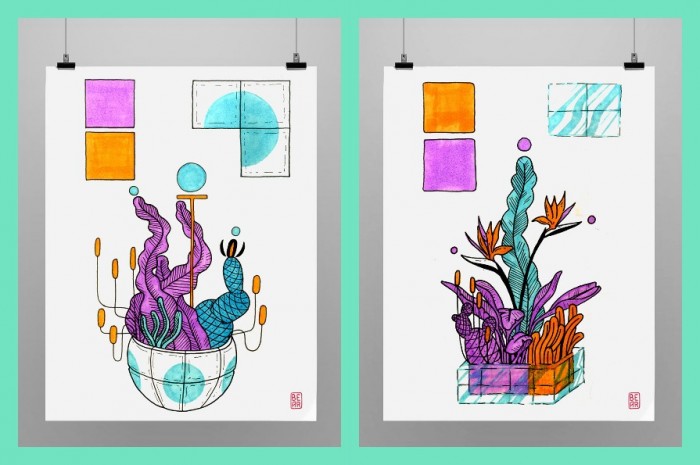 A graphic design student at the Cape Peninsula University, Max Bauer Nelson-Tansley uses both his background in fine art and his graphic design training to deliver simple but evocative pieces. The work he produces is made up of mixture of photoshop and Illustrator, but some pieces are done freehand with different markers and pens.
Since the Design Indaba festival, he has been selling his original work to people from South Africa as well as to international buyers.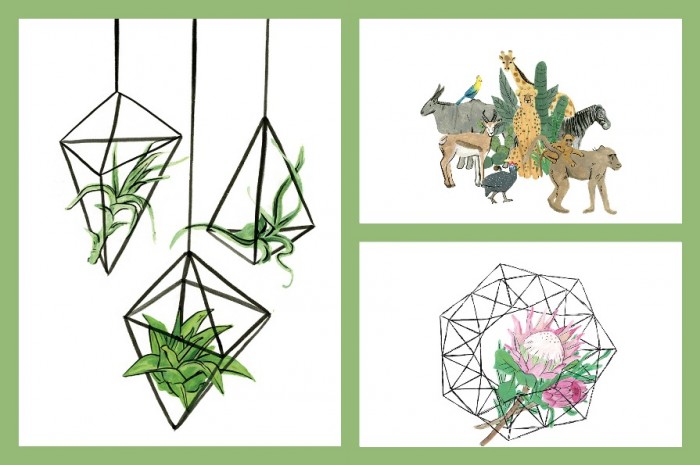 Jessica Middleton, a student at the University of Stellenbosch, creates illustration in both 2D and 3D by using picture books as her inspiration. Since the Design Indaba festival, Middleton has been completely engrossed in her final year her postgraduate degree. But the illustrator continues to produce work that tells a story using photography, drawing and co-design.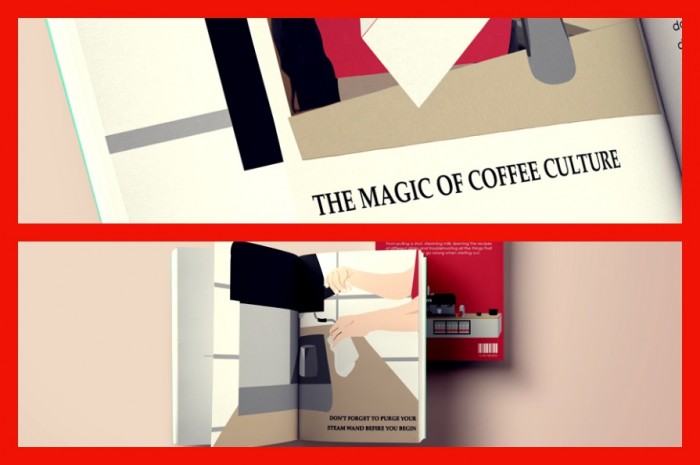 Neliswa Mpungose found inspiration while working as a barista. Combining design and coffee, two of her favourite things, Mpungose began building her platform. Her project, Purist, is a coffee-based series of illustrations about people and their connection to the much-loved beverage.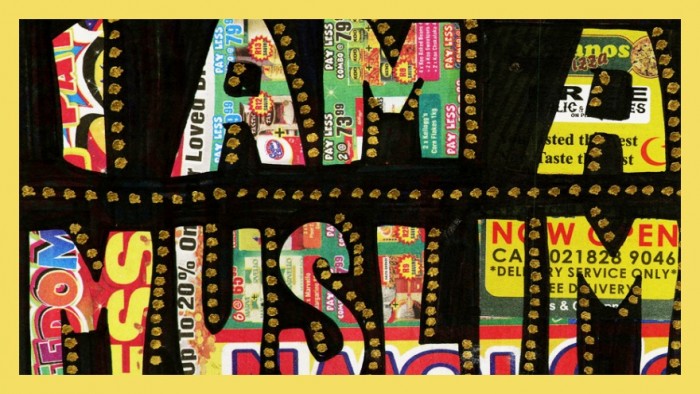 A graphic design student at Stellenbosch, Thaakierah Abdul creates eye-catching pieces of work by experimenting with different graphics, materials and inspiration. She is also known as a social activist in the community because she explores the Cape Malay culture and heritage in her work.
In 2017, Abdul was able to exhibit her work at the Michaelis School of Fine Arts and the University of Stellenbosch. Her Design Indaba Festival exhibition attracted the attention of festival-goers and collaborators alike. Through her work at the festival, Thaakierah was able to secure a bursury to complete her masters.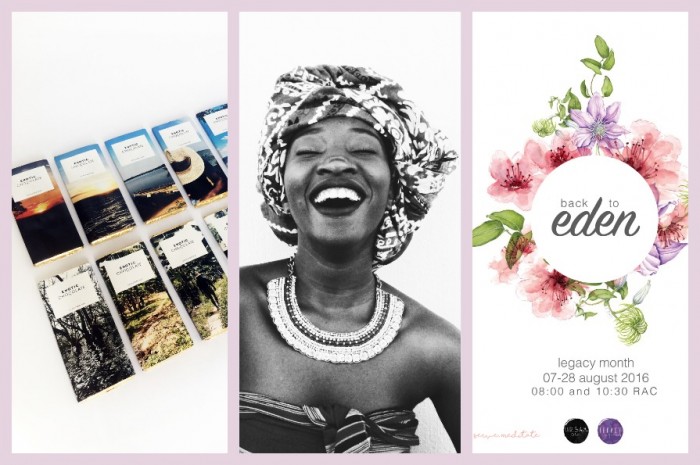 Ssanyu Sematimba is a visual artist who was born in Uganda, but is based in Johannesburg. Her experience in both graphic design and photography have propelled her career and her latest body of work, African Collection, highlights the barriers between African cultures.
Described as a creative chameleon, Sematimba is inspired by her travels both internationally and locally.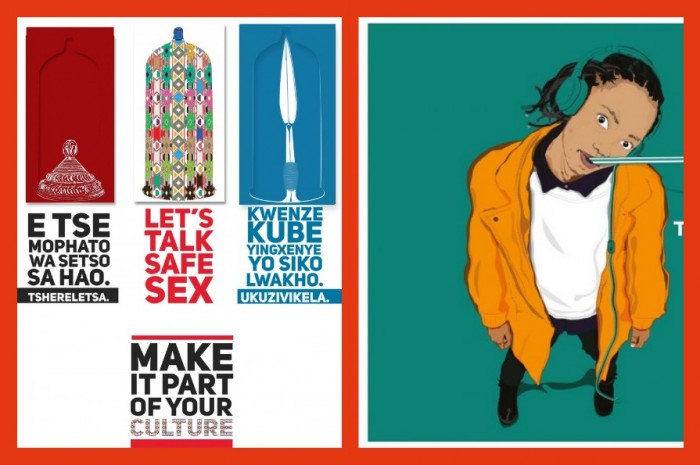 Xolisa Sibeko is a 26-year-old graphic designer who graduated from the University of Johannesburg. He became the first person in his family to obtain a post-graduate degree and has gone on to create socially conscious work. In 2015, he made a poster addressing the effects of culture on sexually transmitted diseases, which was recognised by the International Geldom Project.
Sibeko is currently a student, but his company Studio X is already gaining attention thanks to the Design Indaba Festival. The grapic designer was approached by two companies who are interested in utilising his skills.
Sonwabo Valashiya, a graduate of the Tshwane University of Technology, illustrates to explore the varying aspects of African culture as it's reflected in the modern world. Inspired by pop culture, Vashiya uses his craft to unpack the old and the new. Since the Design Indaba festival Valashiya hosted a solo exhibition, where he told the story of his culture through the eyes of a black Xhosa man.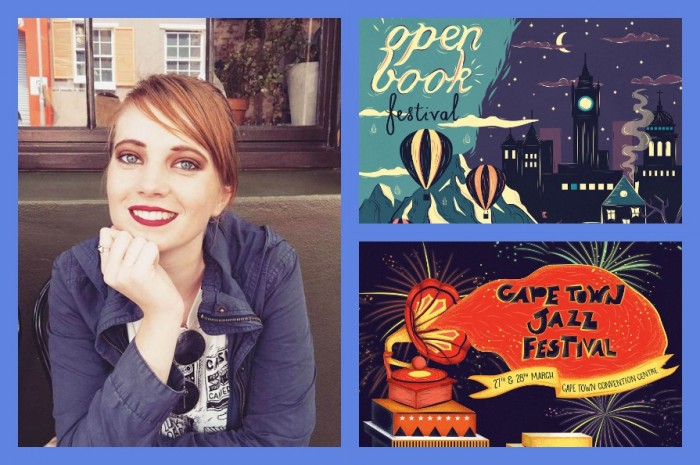 Pretoria-based illustrator Maggie De Vos' body of work Bittersweet Bitterkak puts humour at the centre. As part of the series, she created Exchanging (Un)pleasantries, a booklet of 20 illustrated phrases. De Vos is currently working on a exhibtion that will be taking place at the No End Contemporary Art Space in Johannesburg.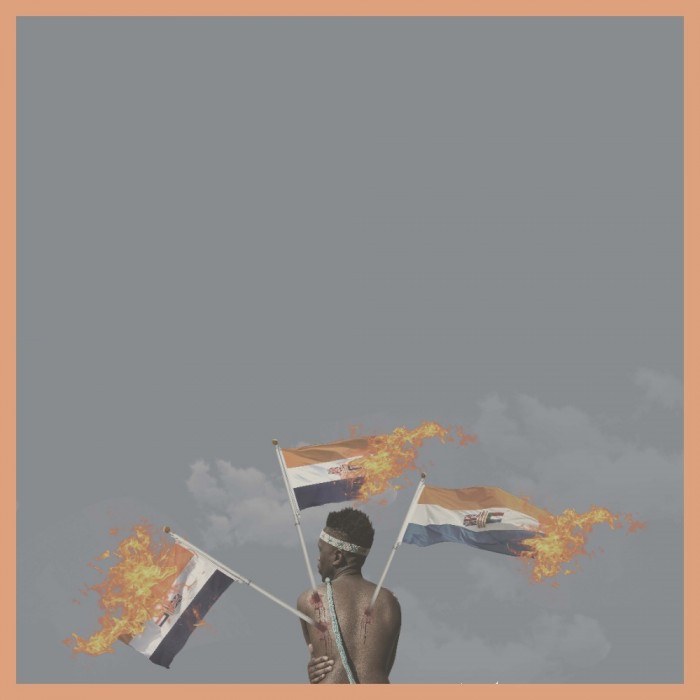 Masonwabe Ntloko is a 20-year-old multimedia visual communicator whose visual artworks represent modern ideas through authentic African culture, making it accessible to South African millenials.
Despite having been diagnosed with optic nerve failure in 2012, Masonwabe went on to create multiple works and in May 2017, he hosted his first solo exhibition.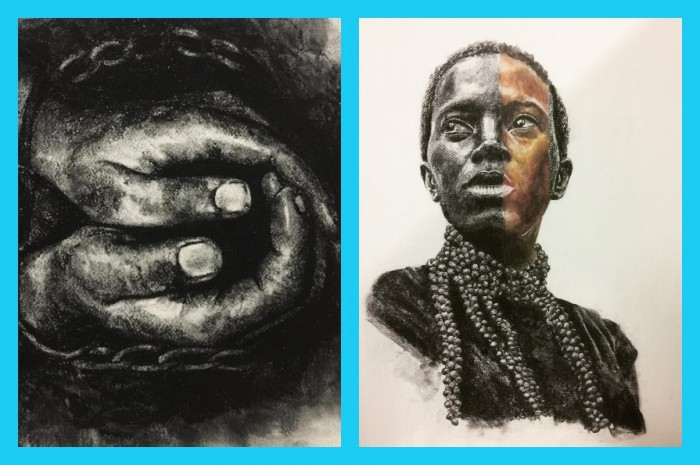 Johannesburg-based Neo Mahlangu looks at the disconnect between social media and real life. A relevant topic in today's society, Mahlangu's work questions the ways in which we find meaning and value, asking the audience to ask the same question of themselves. Her designs come to life through the use of Illustrator and photoshop.
Mahlangu is currently working independently and uses social media as a platform to showcase her work. After the Design Indaba festival, she was approached by the Absolut One Source event. She will be exhibiting her work at the inagural event.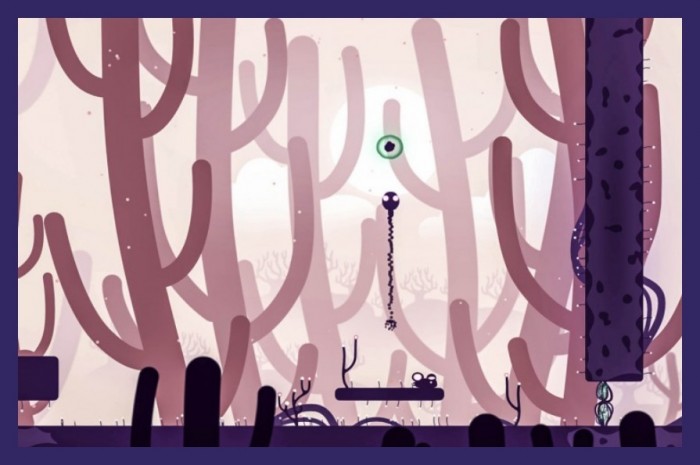 Ben Myres brings together the disciplines of game design and visual art to create the fictional worlds he has always wanted to see. Myres has over the last several years worked for multiple companies and he is currently working on the release of his highly anticipated puzzle game, Semblanc.
He hopes to release the game later this year.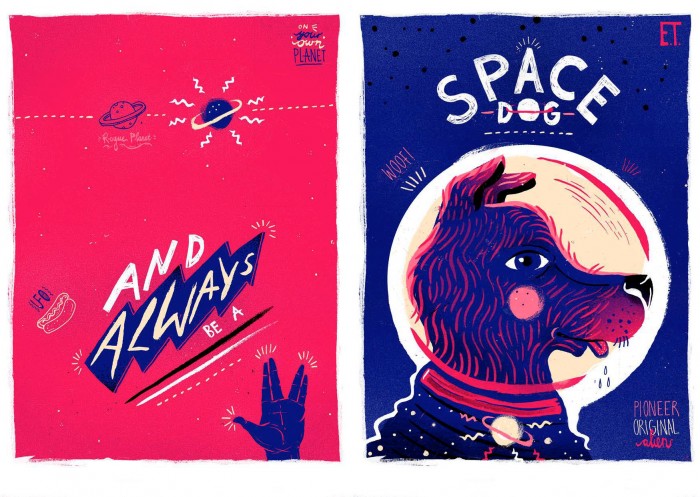 Imile Wepener creates striking work for publications such as German magazine, Donna. In 2015, he won Between 10and5's Behance Portfolio Review award for best designer. He hosted his first solo exhibition in the same year.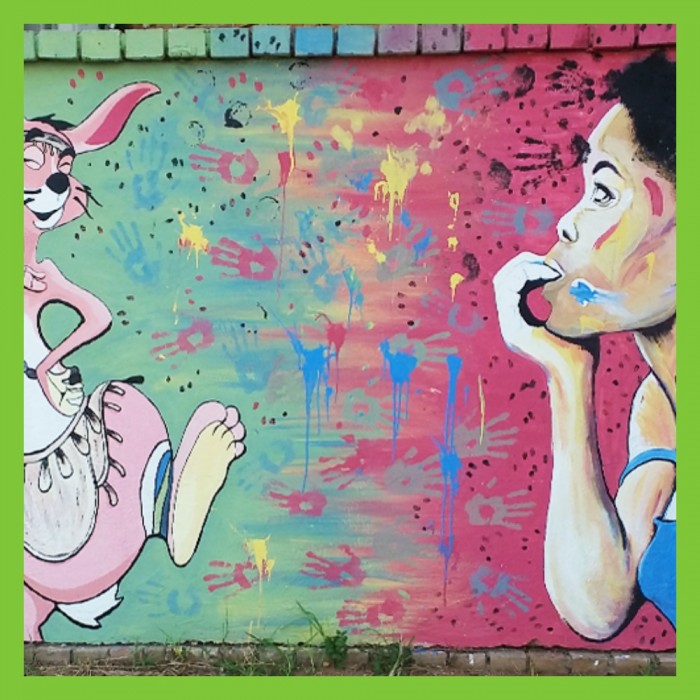 Thabang Rampai's goal is to promote South African stories through film and animation. His platform, ThibossTouch allows him to reach a number of audiences through comic books, animation and illustration.
Applications for the Design Indaba Emerging Creatives Class of 2019 are now open. APPLY NOW
More on our Emerging Creatives:
Meet the young designer making bold swimwear inspired by the shweshwe cloth
6 young visual artists on our radar
13 crafty creatives of product, interiors and industrial design
27 young South African creatives to watch