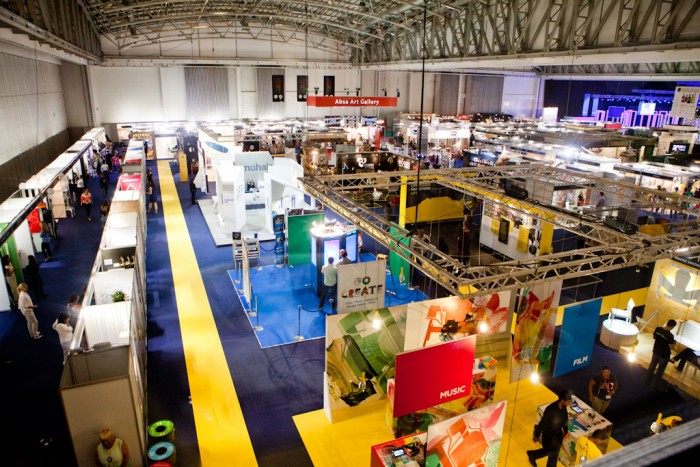 A roundup of gloriously innovative design pieces from the rest of Africa, an encounter with trend forecaster Li Edelkoort, First Editions original pieces from leading local designers, and a chance to be broadcast on Design Indaba TV are some of the dynamic features to debut at Design Indaba Expo this year.
AFRICA IS NOW (AiN)
AiN is an inaugural project that has been conceived, developed and managed by Design Indaba to increase local exposure to the wide-ranging innovations in continental design across a variety of sectors from fashion to furniture, technology, industrial and social impact design. The exhibition will position Design Indaba as the largest platform for designers in the southern hemisphere. AiN is a central gallery style exhibition on the Expo floor (i.e. none of the items will be for sale).
There will be 60 items from 66 designers representing 25 countries, including Mozambique, Rwanda, Uganda, Zimbabwe, Senegal, Malawi and Tanzania – and, of course, South Africa. Designs by furniture-maker Cheick Diallo, fashion label Taibo Bacar and womenswear textile designer Sindiso Khumalo will be featured; along with a scale model and diagrams of the Makoko Floating School in Lagos, Nigeria; as well as the much-anticipated Nairobi-designed BRCK modem – dubbed a "back-up generator for the Internet".
There will also be a separate Africa Pavilion that, much like the rest of the Expo, will showcase exhibitors and their items that will be for sale. Countries represented in the pavilion include Swaziland, Rwanda, Namibia and Mozambique.
FIRST EDITIONS
First Editions is a smaller, gallery style exhibition space that features 15 products. It will be an unmanned stand where products will sit next to their designer's contact information. It's a stand for Expo exhibitors launching new products – items by designers Ronel Jordaan, Margarete Woermann, The Curious Room, Egg Designs, Lesiba Mabitsela, Kat van Duinen, Wolf & Maiden and Flagship Handbags among them.
OTHER NEW AND NOTABLE HAPPENINGS:
Internationally renowned trend forecaster and Design Indaba Conference regular, Li Edelkoort, will be accessible to Expo visitors for the first time when she launches her book in the events arena on the main floor of the Expo. She will be talking about Fetishism in Fashion and will sign copies of the book afterwards.
Friday, February 28 at 2pm
This year, in recognition of Cape Town's status as World Design Capital, Henley Business School in South Africa will give away a scholarship for the newly launched MBA for the Music & Creative Industries, worth more than R220 000. The competition for the MBA will be launched at the Design Indaba and only speakers, attendees and exhibitors at the Design Indaba 2014 will be eligible. This scholarship also seeks to recognise the work done over the years by the Design Indaba team and Ravi Naidoo.
The British Council's Connect/ZA projectwill launch its latest cross-cultural initiative that links SA and UK creatives: The Maker Library. Conference speakers Daniel Charny and Thomas Heatherwick will speak at the launch, offering visitors another taste of the conference for the cost of an Expo ticket.
Saturday, March 1 at 10.30am
Aspiring TV presenters can hop into the resident MINI Cooper Countryman to have a chat with Design Indaba TV. The Countryman has been converted into a stylishly compact TV studio for Design Indaba Expo.
Expo hours
RETURNING EXPO FEATURES WITH A TWIST:
EMERGING CREATIVES
The new feature of the Emerging Creatives programme this year is the pilot mentorship project that matches eight emerging designers with experts in their respective product design or service fields. For six weeks, these eight designers have their work refined by their mentors. The Department of Arts and Culture is a partner in this programme that seeks to develop these designers and give them a springboard to the ranks of fully-fledged Emerging Creatives.
These designers will join this year's 32 Emerging Creatives in fashion, illustration, photography, furniture and industrial design.
MOST BEAUTIFUL OBJECT IN SOUTH AFRICA (#MBOISA)
There are 12 nominations this year for the highly prized Most Beautiful Object in South Africa competition – all items must have been designed and produced in SA in the last year. Nominators include Bonang Matheba, Aspasia Karras, Chris Roper and Alistair King. This year the definition of what constitutes 'beauty' has been expanded to incorporate a number of media and tech contenders, such as music videos, short films and a full-length film; as well as a technological health bracelet that links to an app. Traditional nominations include three dresses, a drinks cabinet and pieces of jewellery.
The winner will be announced in the events arena on the Expo floor on Sunday, March 2 at 4pm. The winner is elected by public vote cast by SMS (which cost R1 each).
FASHION
The Cape Town Fashion Council will feature the clothing of 40 of its member designers at the Expo, including David Tlale, Thula Sindi, Dax Martin, Craig Port and Hendrik Vermeulen, along with new designer Lara Klawikowski (see New Exhibitors below). Twenty of the 40 designers will also put on fashion shows on the ramp in the events arena, in addition to having stands. The other twenty will just have stands. In total, there will be about 60 fashion designers represented on the floor.
The fashion component of the Expo provides the unique opportunity for visitors to watch fashion shows and then go and buy directly from the designers on the floor.
EXPO EXHIBITORS
There are a total of 500 exhibitors at the Expo this year, 230 of which are first-time participants. This is the largest number of Expo exhibitors there has ever been.
New exhibitors include:

WitOpWit (WOW), a Pretoria-based communication concept factory founded by three architects that until recently focused on organising creative events. WOW now does product design, too, and developed City-in-a-Box: a pop-up card that uses famous landmarks of local cities as an architectural display.
Cape Town-based The Fire Room is a creative agency that produces corporate identities, brochures, book packaging, signage and multi-media using techniques such as litho printing, screen-printing and bookbinding.
Pretoria-based industrial design studio Five Past Five Design includes architects, art directors, creative writers and industrial designers that create handmade leather and timber homeware, accessories and products.
Somerset West-based homeware company The Water Battiss Company offers a collection of the artist's silkscreens, etchings, drawings, monotones and oil paintings in a variety of media from wallpaper to ceramics (the latter in partnership with ceramicist Mervyn Gers).
Swellendam-based ceramic artist John Newdigate's high-fired vitrified porcelain functional, one-off and mass-produced pieces.
Cape Town-based fashion designer Lara Klawikowski, who started her label in 2010, the same year she was a finalist in the Extraordinary Hat Competition and Vodacom Durban July Fashion Challenge – the latter which she won in 2011.
Cape Town-based belt-maker Claire van Turenhout has expanded her Jinger Jack label to include handmade clutches, sling bags, handbags, wallets, iPad sleeves and weekend bags.
Cape-Town-based hand-turned bowls and handmade tabletops designer Rodney Band uses a wide variety of African woods to create his mainly large-scale bowls.
Natal Midlands private and collaborative fine art printmaking studio The Caversham Press has established a new division, Caversham Textiles. Debuting at the Expo is the studio's new Artists' Range: screen-printed fabrics designed specifically for the launch by a select group of South African artists who have passed through the studio in the last 28 years.
Durban-based former Emerging Creative Songezo Baleni uses wire to replicate the hand-woven grass bangles and baskets of his childhood into precious metal pieces of jewellery.
Cape Town-based former Emerging Creative Amy Sinovich uses semi-precious stones and precious metals in her jewellery range Resonatebyamy.
Johannesburg-based multi-disciplinary design company Studio Number 19 does furnishings and lighting for retail and residential projects. The studio will feature furniture and lights at the Expo made by employing some of its signature techniques including welding, ceramics casting, resin casting and textile printing.
There will be new products from previous exhibitors, including:
Renée Rossouw: African-inspired colorful ceramic vases
FH Porcelain: hand-crafted espresso sets hand painted with blue cobalt
Ardmore: furniture and homeware
Mingo Lamberti: textile designs and crockery
Ceramic Factory: quirky, functional ceramics
Katherine-Mary Pichulik: items of jewellery
Design Indaba Expo takes place from 28 February to 2 March at the CTICC.
Tickets are available online or at the door.
Hours:
Friday: 10am – 8pm
Saturday: 10am – 8pm
Sunday: 10am – 6pm
Registered buyers representing local and international companies will have exclusive Expo access on February 27 from 10am – 6.30pm. This year there are more than 450 preregistered buyers. The international buyers and media registered so far will come from the UK, the US, Australia, New Zealand, Norway, Sweden and Switzerland, among other countries. On-site registration for additional accredited buyers is available.
For more information go to designindaba.com/expo