Fashion lineup at Expo 2014

Get front row seats to the best of South African fashion design at a variety of ramp shows presented by the Cape Town Fashion Council at Design Indaba Expo.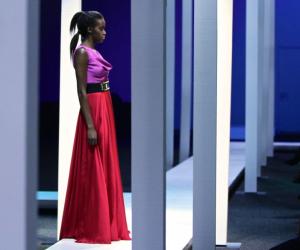 Fashionistas, couture junkies and style gurus get ready to take your front row seat at the ramp shows at the Events Arena on Design Indaba Expo floor.
Presented by the Cape Town Fashion Council, this scintillating lineup of local fashion features some of South Africa's leading labels in 20 shows over three days.
Fashion shows run every day, 28 February to 2 March, from 11:30 to 16:00, showing off collections by the likes of David Tlale, Thula Sindi, Lara Klawikowski, Dax Martin and many more.
What makes the Design Indaba fashion shows different from other fashions events, is that if you see that must-have design paraded on the ramp, you can simply go to the designer's stand on the Expo floor and buy it right there and then.
Event Information

Event Information

Friday, 28 February, 2014 -
Saturday, 1 March, 2014 -
Sunday, 2 March, 2014 -

Venue:

Free to Design Indaba Expo ticket holders.

Ticket Information

Fashion shows are free to attend for all visitors to Design Indaba Expo. Tickets to the expo cost R80. Click here for information on Design Indaba Expo or ticket sales.
Jacques La Grange Couture
More About Fashion lineup at Expo 2014