Each year Design Indaba, in collaboration with the Department of Arts and Culture, drafts a new crop of South Africa's budding creative minds to form part of the Emerging Creatives platform. This is an annual opportunity for young designers who might not have much exposure in the industry to get a leg up and hit the ground running in their careers.
At the Design Indaba Festival, we showcase their work in an exhibition. 50 of our Emerging Creatives from around the country are given the opportunity to exhibit at the festival in Cape Town to rub shoulders with established designers and like-minded newcomers to the scene.
Architecture, Space & Interiors
Durban-based creative Thabiso Joyisa has taken on an ambitious task. He wants to build a new School of Architecture at the Durban University of Technology in South Africa.
Passionate about the way architecture and education can change the environment for the better, Joyisa established a student organisation the university called Level Six.
Another architect who hopes to empower people through his work is Max-Gordon Stoffberg. He is an architecture graduate who is pursuing a Master's of Philosophy in Inclusive Innovation.
His work is focused on the social enterprise Question Mark Kaffy, which seeks to empower Cape Flats creatives.
With a similar mission to transform, the next Emerging Creative, Lesego Maloka is the founder and creative director of Pone Creatives. Her company focuses on home furnishes, fabrics and gifting – adding joy to people and places.
At the same time Durban-based interior designer, Simphiwe Mlambo says he aspires to explore Afrofuturism to create bespoke objects.
"I am constantly inspired by my surroundings and heritage and constantly looking for a way to communicate these ideas in a modern context through elegant forms and finishes," explains Mlambo.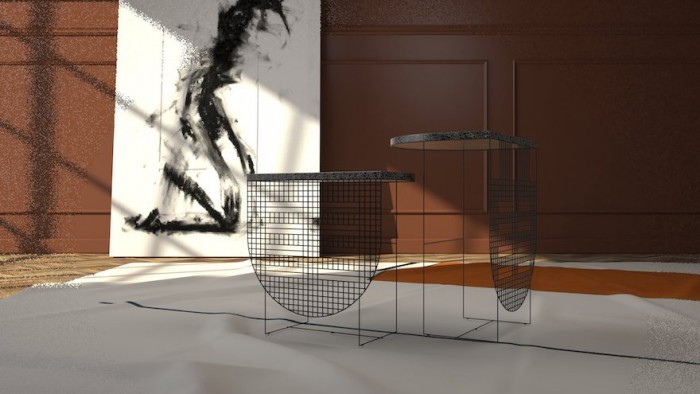 Transformation within the home is at the core of what Christine Goosen and Kara Schoeman. Both up and coming designers in the furniture and homeware space, Goosen and Schoeman combine art and product to create fascinating designs.
Schoeman, the co-founder of Kara Artistics, specialises in functional aluminium art. Goosen looks at creating aesthetically pleasing designs for modern homes. Her company Jacobs Collection was launched in 2016 and has since been featured in Elle Decor and Visi magazine.
Bright Dimba works in the interior and homeware space and dreams of operating a design showroom in Ladysmith, KwaZulu Natal.
In 2017 he established Dukada, an artisanal crafts company based in Ladysmith, a small town of KwaZulu-Natal. It is a design/craft collaboration with the rural women crafters of the town and specialises in the design and production of unique, handwoven, colourful furniture products and accessories.
Another designer innovating within the spaces we occupy is Primrose Chimhanda. She's a print designer with a background in architecture and interior design.
Her company Primrose Charmz is behind 27 Collection, a series that looks at surface design inspired by nature and geometry.
"This surface design collection is named after my age," she says. "Each design is inspired by a form of nature which represents an expression of the most powerful lessons I've learnt."
Fashion & Identity
The clothes we choose to where are often the best indicator of how we want to be perceived. Fashion designers are tasked with not only creating unique garments but also with creating vehicles for identity.
Madri Scherman studied molecular science at Stellenbosch University and started Masch, a leather company that makes ageless, hand-stitched items.
Durban born designer Eleazer Radebe couldn't find clothes to suit his own style so he broke out on his own. Today he runs a fashion business in Cape Town working with clients both in fashion and interior decorating.
At the same time designer, Mohau Seboka started creating her own bags and shirts as soon as she was old enough to handle a needle and thread. Today, the University of Johannesburg fashion graduate focuses on bespoke womenswear.
Henna art inspired Durban-based fashion designer Therusha Chetty. The self-taught artist creates intricate designs on sneakers, jewellery boxes and cushions.
Also inspired by culture, Yanela Mtolo's company, Transkyan creates stylish modern garments with a traditional Xhosa feel.
"I am deeply influenced by my own Xhosa culture," she says. "From the silhouettes of traditional regalia to the modern everyday clothes that are worn today and the simplistic rural life."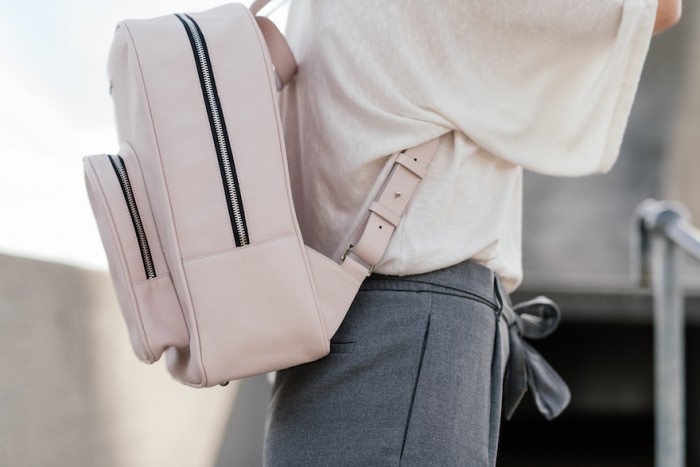 Fashion and textile designer Zane Ngwenya creates minimal, conceptual and progressive garments. Her designs are centred around the visual language of the South African townships and look at unexplored creative identity.
Technology and personal expression combine in the work of Shaline Naicker. The fashion designer incorporates technology into her work to produce innovative wearable art. Her designs include a photochromatic lens that is usually used by optical companies who manufacture lenses for glasses.
From Langa, Cape Town, Asanda Mini combines fashion and business in her practice. Her company, Unyazi, which is the Zulu word for light during a storm, is making a bold statement with handcrafted accessories.
DOCTORED is another boundary-pushing initiative. Kgahlego Kewana is a doctor who at 28 years old decided to pursue a career in design. Now, the LISOF graduate wants to create interesting designs that are accessible to the everyday woman.
She established a platform called Fashion Meets Jazz in order to nurture other rising talents in the industry while she cultivates her own design identity.
Jewellery & Accessories
If clothes represent who we are, then jewellery makes up the pieces that tie everything together. Jewellery designer, has a deep fascination with gemstones and each piece she produces is one of a kind.
"My interest and enjoyment are to use gemstones and precious metals to show off nature's beauty, to produce lovely pieces to wear and treasure," she says.
Another gemstone enthusiast and professional gemologist, Taz Watson keeps every aspect of her business sustainable and African, from sourcing to manufacturing and packaging.
Finally, a range by interior designer turned jewellery designer Bonolo Moloi involves crocheting, beading and weaving.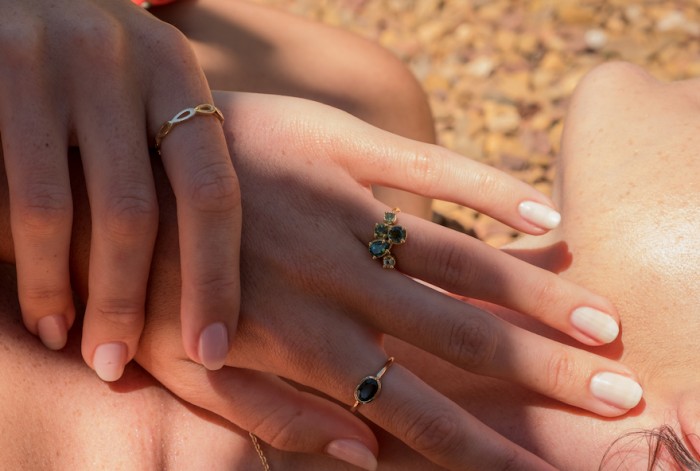 Graphic design, illustration, and visual art
Every year, we find a plethora of graphic designers, photographers and illustrators who find new ways to explore these design staples.
Fumani Khumalo is an all-rounder in this space. He dabbled in illustration, graffiti, and fine art before landing his current role as an art director at the digital agency, VML. The Joburg-based Vega graduate draws detailed portraits using charcoal and also makes use of ink, acrylic paint and markers to add abstract representations of thought and speech.
Phenyo Melody Madiba substitutes charcoal for fire in her own work. "Pyrography is my medium of choice because I feel it creates synergy between my materials and subject matter. I get to burn, scratch and create textures I wouldn't be able to make with paint or pencil.
Ancient religions and beliefs had one common God, the Sun God. I sometimes use gold in my pieces, to illustrate that belief – that black women are Sun Gods. Making markings by fire also ties in with that belief," she says.
Natalie Paneng is a multidisciplinary artist. Her photographic work is mainly focused on self-portraiture. She uses the mediums of photography and videography as a means to represent herself in different persona and characters which connect with an online audience.
Like Paneng, Mzoxolo x Mayongo (x, formerly Christopher) is a conceptual artist and activist who is multifaceted in his approach.
Mayongo's skills include performance, photography, installation and sculpture. He unpacks conceptual ideas about the human condition, interrogating our complexities.
Suzan Mbhali Manzini uses illustration to promote self-love. With her company, ForMeByMe, Manzini has personalised illustrated phone cases, t-shirts, portraits and laptop stickers. Graphic design student Nicole Du Toit takes a similar approach to her work.
Du Toit's most successful project to date is Period, a movement she created to educate young women on menstruation and to redesign government issued sanitary pads. "The project aimed to eliminate the taboo of a period, and ultimately keeping young women in school; educated and confident," she explains.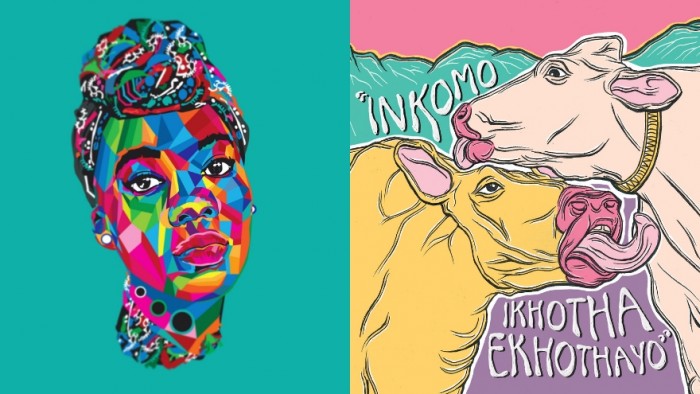 This year, we've also uncovered illustrators like Rofhiwa Mudau, Zinhle Zulu, Chad Hanning and Thabiso Gcwensa. Their work, unique and captivating speaks to the future of illustration as we know it.
The same can be said for photographers Tshepiso Mabula, Zingisa Ntwana, Bongeka Ngcobo and Basetsana Maluleka. From personal stories to community upliftment, their work is not to be missed.
In the visual art category, Mondli Kunene wants to use his painting to foster social change. Along with multiple paintings, Kunene has also created two murals in Sharpeville.
Lastly, Lunga Ntila is a visual artist who uses storytelling to evoke emotion. "I am in love with storytelling, and in many ways, I try and have some sort of a story in my images and artworks," she explains.
Ceramics & Product
Karabo Seleke is a painter and ceramics artist, whose work is influenced by nature and the people around him. His ceramic artwork is decorated in contemporary colours and uses stylish yet traditional patterns.
Rolecia Janse van Rensburg's motivations are human-centred. The product designer looks at creating quirky everyday pieces that are lead by humour.
"My design approach is towards fun loving, humorous elements, that unify all people (especially South Africans," she explains.
At the same time, Minenhle Zazi Cira's work is inspired by African culture and art. His company, CLAN, focuses on interior design, where Cira and his co-founders produce products that represent love, peace, unity and equality.
The Johannesburg Exhibitors
Hlengi Baloyi is a self-taught traditional handbag designer who in 2017, won the Lisof X Edgars 2nd year Denim rip and repair (deconstruction) competition.
She'll be among 9 other Emerging Creatives exhibiting at LISOF in Johannesburg as part of the annual programme.
Baloyi will be joined by accessories and jewellery designer Thando Simelane whose work hopes to educate children about the dangers of drug use.
While jewellery designer Mbali Mthethwa is inspired by her Zulu heritage. Her brand. The Herd Designs looks at the power of art, creativity and how to preserve tradition.
A number of creatives in the photography industry have tapped into the conceptual and the surreal.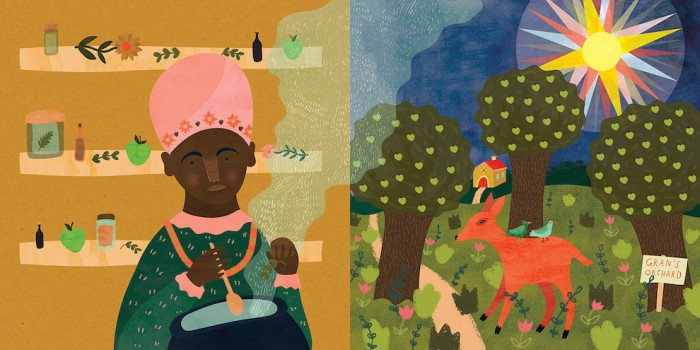 Exhibitor and photography student Lorraine Raaths established her company, Pure Entity Photography, in October 2016. Her diverse portfolio includes fashion photography, conceptual art, fine art, surrealist expressions, product shoots and food.
Alongside Raaths, Graphic design major Lebogang Maphanga's style is eccentric and versatile. The Pretoria-based designer and visual artist's work is inspired by Japanese culture and art.
And filmmaker and photographer Tandekile Mkize uses storytelling through fashion and art as a focal point in his work.
In the field of illustration, exhibitors Luthando Mfabe, Neil Badenhorst, Simphiwe Mangole, Manuela Ohsiek are inspired by a medley of things including technology, pop culture, children's books and more.