Design Indaba 2014 Tastescape

An exclusive evening of exploring the unique flavours of South Africa with some of the country's leading chefs.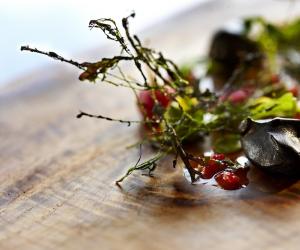 "If I say 'soya sauce, ginger and seaweed', your mind goes to Japan. If I say 'tomato, basil and mozzarella', your mind goes to Italy. One of the most important souvenirs for a traveller is flavours; and I'm still missing South African flavours. Why?" – Chef Alex Atala, Design Indaba 2013
This quote by Chef Alex Atala became a creative provocation for the Design Indaba team to explore ways of unearthing the flavours of South Africa.
We invited local culinary superstars Chef Margot Janse, Chef David Higgs, Chef Luke Dale-Roberts and Chef George Jardine to take an exclusive selection of guests on an evocative, once-in-a-lifetime journey of homegrown flavours.
The sensorial journey is not just about taste - it also explores the limits of taste, flavour and the eating experience, beyond just savouring a dish on a plate.
Event Information

Event Information

Friday, 28 February, 2014 - 19:00

Venue:

By invitation only.