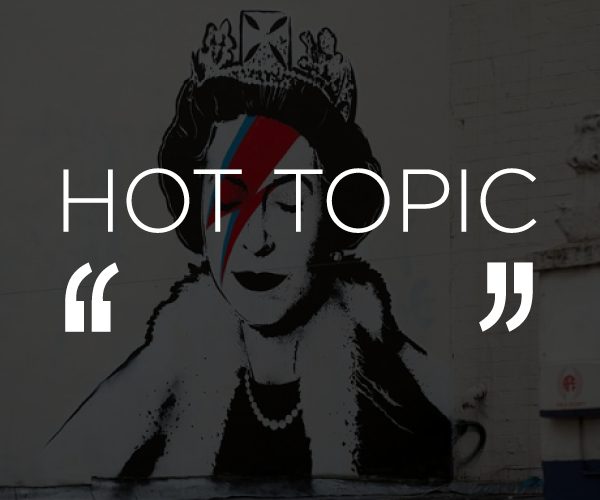 Hot Topic: Is London the design capital of the world?
While Cape Town reigns as ICSID's official 2014 World Design Capital, in this Hot Topic we consider whether London is the de facto capital for the world's designers to base themselves in given the wealth of high-calibre, multi-cultural designers who call the Big Smoke home. Is it the city's scale, its educational institutions (or one in particular), or its rich counterculture?
We tapped our network of creatives living in London to find out what makes the city such a fruitful environment for designers to work in.
Oscar Diaz, Spanish product designer:
I came to London to study at the Royal College of Art and fell in love with the energy of the city. This made me decide to set up my studio here after I graduated. In London there is a culture of innovation so as a designer I feel in my natural element.
I moved to London five years ago when I was offered a place at the Royal College of Art in the Design Interactions department. London is like a platform video game, things keep appearing one day and disappearing the next. This is why it is so thrilling to live here – the city can never be fully understood, there is always something new to discover. It is a wild place. London is a city that supports individuality and originality. This can be observed everywhere: in education, in architecture, in the way people live... I think this is why so many designers, and creatives in general, want to live and work here.
Clive van Heerden, product designer originally from South Africa:
I came to London to study at the Royal College of Art in the late 1980s and ended up making London my home. Despite several attempts to live elsewhere, I kept coming back to London because of its edginess and diversity. As a creative capital, I believe that London is the headquarters at the moment - its like a giant organism made up of millions of evolving tendencies, which is essential nourishment for designers.
I initially moved to London to study design interactions at the Royal College of Art, a very unique narrative and critical design course run by Professor Anthony Dunne. London is a very challenging city and that is why I have developed my practice here. Since the creative community is rather massive, we get to challenge one another's work. The result is a very stimulating environment where I push my practice and myself beyond a "safe zone". I get to experiment more and be bolder in my approach to design. I travel a lot, but I always come back. London is a great place to think and manufacture for the impossible.
Peter Krige, South African designer and engineer:
I wasn't originally drawn to London for design. But the city has a buzz that gets people engaged, motivated to work and collaborate. Perhaps it's that critical number of people that allows ideas to propagate and movements to keep going.
Ryan Frank, South African furniture and product designer:
I spent close to 10 years in London, five of them working as a furniture designer and then moved to Barcelona to open up another studio. I would say London has a lot to offer designers. When I started out, I remember being impressed with the amount of support a young designer could obtain in London. Groups such as Hidden Art run workshops and events and offer general support on all aspects of starting and running a creative business. I also found financial support with a UK-based body that offers grants to companies to exhibit and promote their products abroad, allowing me to show my work at the Milan Furniture Fair and others. Equally, I found the press very active and supportive of designers. The diversity of small, medium and large businesses in London make it ideal for commissioned work, as sourcing and obtaining materials and services is accessible and cost effective. Lets hope the British manufacturing sector continues to grow.
Watch the Talk with Nelly Ben Hayoun
Talks
• Duration: 00:47:34
•
26 Jul 17