Africa is on fire, and African youth are going to change the world.
It's not just the overwhelming international success of the Black Panther film, which topped $1.2 billion in ticket sales last weekend, making it the highest grossing superhero film of all time, bringing the concept of Afro-Futurism to the world stage. It's also the fact that, by 2020, 75% of the African population will be under the age of 20.
Cape-Town based creative agency Andpeople pointed out in their presentation at WGSN that this generation "has inherited two worlds, the physical and the virtual. Democratisation is taking place through technology, and information is now a birthright… future leaders now rising will be young, innovative, and collaborative". Creativity and design thinking will be key to their ascension.
At Design Indaba, the world's biggest design conference and the continent's most innovative festival of creativity for over 23 years, the focus is always on design doing. Founder and managing director Ravi Naidoo promotes long-term design projects that bring change to South Africa—whether building housing or improving education and access to resources.
His speakers are always carefully chosen from around the world — Neri Oxman and Thomas Heatherwick spoke eloquently this year, and Heatherwick recently unveiled the building he designed for the Zeitz Mocaa, the first museum dedicated to contemporary African art on the continent. This enormous and headline-grabbing project was in many ways driven by Naidoo, but his "designer curatorship" is at its most powerful in his lesser-known invitees from around Africa—those that have the power to drive profound change from inside the continent.
Leroy Mwasaru, age 19, started his first business in Kenya when he was sixteen. Up on the Indaba stage before thousands of attendees, he described his work in renewable energy and education through design thinking. His views on African youth were particularly compelling "There has to be a shift in how the world media portrays Africa. This new, young Generation Z here will impact even more social change than any other across the world. If every African youth took the tools of innovation and developed them, what would happen?"
Mark Kamau, a UX designer from Nairobi, has a solution. He pointed out that the next 3 billion internet users will come from frontier markets—800 million of them from Africa, but that "the internet was not built for Africa". BRCK, his Nairobi-based start-up, intends to put the tools of digital creativity in the hands of Africa's youth, as BRCK's internet backup kit brings the internet to the most rural areas on the continent and "will be connecting these future users—not Facebook or Google".
Design Indaba also showcases softer tools for change, as performer and playwright Lebo Mashile spoke of "Poetry as a tool of resistance." Motswako rapper Kuli Chana came on stage to rap out "Light a torch up/We put it up coming live from Accra/I'm here to tell you Africa no longer riding shot gun." His music video Africa on Fire,directed by filmmaker Sunu Gonera, portrays a powerful change in the way Africans want to portray their country.
A self-declared Afro-futurist, Gonera explains that "This is a revolution and creativity is our weapon. Africa is putting itself first on the creative and development front." The video, done for Absolut Vodka's One Source Live Festival which took place last weekend in Johannesburg, explores a unique African mythology and powerful aesthetic that takes Afrofuturism to a grittier, more visceral level than Black Panther:
With Virgil Abloh, a first generation Ghanaian-American who trained as a civil engineer and architect now taking the helm at major luxury brand Louis Vuitton menswear, we will be seeing a much different aesthetic perspective coming to the forefront, also driven by young African designers, such as Amna Elshandaweely.
Amna, a 25-year old designer from Egypt, whose "Cairo Punk", "Road to Nairobi" collections question what it means to be African, asked at Design Indaba "Why can't we have our own fashion from our own culture?" She constantly travels the continent and shoots her clothes only with dark-skinned models, explaining that "Through design we can change the world—I want to turn tension into intention".
From Cape Town to Cairo, Africa is on fire—in the most creative way possible. In the words of Kuli Chana "Connect the dots from the Northern to the Southern hemisphere/flip the anger to passion, the pain to pleasure, 'cause change is here".
Watch the Talk with Mark Kamau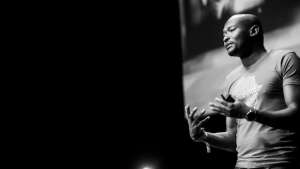 Talks
• Duration: 00:18:10
•
25 May 18