Download
options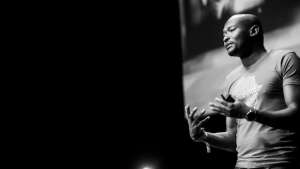 Download: How a small Kenyan start-up is disrupting the way the internet works
Click on a link to download the video file
There are about 3 billion people in the world with no access to the internet, about 800 million of those people are in Africa.
As Kenyan UX designer Mark Kamau explained at Design Indaba Conference this year, getting them online is about more than just providing wifi. Most of these people live in areas with no access to electricity let alone the infrastructure needed to connect them to the Facebooks or the Googles of the world.
For Kamau, who made it clear that his mission is to bring internet to these 800 million people, the solution is to create technology with their unique challenges in mind rather than applying what is already working in London or Los Angeles.
"Our contexts are different. We don't have the infrastructure," he says.
This is why they developed Brck, a weatherproof microserver that when connected to a SuperBrck (which can be stored inside homes or outside connected to a solar-panel for areas with no electricity) has not only computational but also storage capacity. Meaning information no longer has to travel from servers in the US (like in the case of Facebook, for example) in order to connect people in Rwanda, Kenya or even a township in Cape Town.
By doing this Kamau and his team have helped to disrupt how servers store information and how connectivity is distributed.
He says: "I strongly believe that gone are the days when solutions parachute from the West to Africa. The stakes are simply too high to do these experiments. It's time for Africa and African designers and companies to take the stage."
But Kamau's entry in the tech space was by chance. Growing up in Kenya, he says he wanted to be a soccer player and made it to being captain of the national team before leaving due to players not being paid. He went to some free classes on computer basics and his career picked up from there. He ended working in Berlin with clients like Hugo Boss.
"I found myself at a design firm in Berlin, doing cutting edge jobs working with cutting edge brands… we were designing experiences for human beings to get into a Hugo Boss shop."
He adds: "At Brck we have this expression, it's called 'scratching at fleas'. When you're solving problems that don't fundamentally affect human life, you're scratching at fleas. Here I was in Berlin, scratching at fleas while back home people were grappling with lion-sized problems."
Design Indaba 2018 Conference Talks are presented in partnership with Liberty.
More on innovation in Africa:
Mark Kamau wants to bring Wifi access to those who cannot afford it
Brenda Livoli on leading Kenya;s biggest tech innovation hub
Roba Mostafa on creating a market for interactive design in Egypt