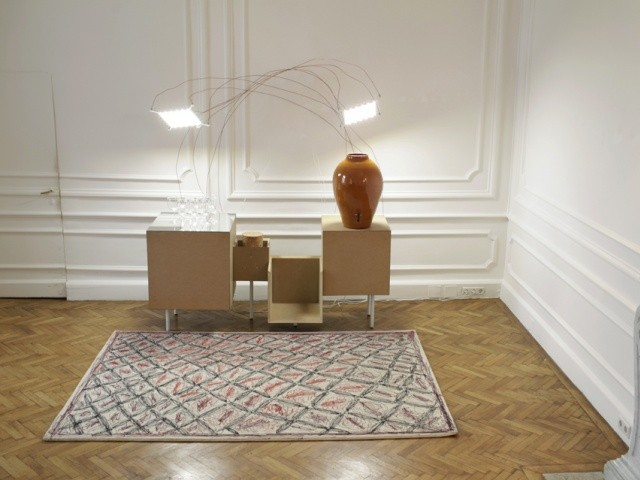 Marti Guixé deconstructs the traditional order of making wine by using everyday objects to represent the system - from growing the grapes to drinking the wine.
Inspired by the "bag in a box" concept that refers to having wine without having a bottle, Guixé's Still Life with Light exhibition is centered around the idea that the classical glass wine bottle may be coming to an end. Made up of ten wine glasses, a vase, two Cyclops lamps, a large cork, flyers and a carpet, the project is a symbolic representation of the basic elements that lead up to the enjoyment of wine.
The vase, full of wine, and utilising a tap as a means to pour the wine, portrays an upmarket version of a box of wine. The two lamps hovering over the display represent grapevines, alluding to the start of the winemaking process. Lastly, the rug situated in front of the arrangement symbolises the label, often being a very important characteristic of the classic glass wine bottle.
Still Life with Light was on display at Sotheby's earlier this year as part of Vienna Design Week 2012.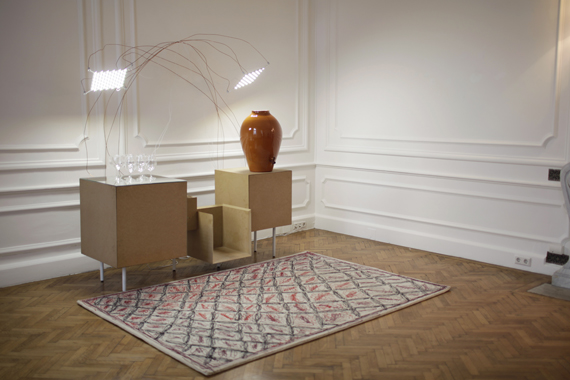 Watch the Talk with Martí Guixé