Titled "Come Home Again", Es Devlin's most recent installation graced the banks of the Thames outside Tate Modern until 1 October 2022. The aim of the installation was to draw attention to the flora and fauna on London's priority conservation list which features 243 endangered species.
Commissioned by luxury jewellery brand Cartier, "Come Home Again" is a steel and fabric scale model of the domed St Paul's Cathedral – which sits on the other side of the River Thames – enveloped in Devlin's drawings of the many endangered species. The drawings, which include moths, birds, beetles, wildflowers, fish and fungi identified by the City of London Biodiversity Action Plan, were printed on plywood and fixed to the dome.
Devlin, a former Design Indaba conference speaker, who is well known for her stage designs for artists like Beyoncé, Kanye West, and Miley Cyrus, and productions like Cirque du Soleil and The Crucible, turned her attention to the wildlife of her immediate environment while exploring with her children during the pandemic. Inspired by her newfound knowledge of local flora and fauna, Devlin wanted to create an installation that drew attention to protecting the biospheres of the natural world.
As part of her painstaking illustrative process, Devlin learnt a great deal about each and every one of the creatures on the endangered species list, which was compiled into information that visitors could access via QR codes on the installation.
At night, the cathedral-like structure was illuminated with lights shining from behind the drawings. Various choirs from across London performed choral interpretations of hymns intermingled with sounds from the birds, bats, and insects on the list. During the day, visitors could explore the illustrations while recordings of various creatures' calls played alongside facts about the animals read out by Devlin herself.
In 2021, Devlin curated a temporary installation of 197 trees and plant species to highlight issues related to climate change during the COP26 conference.
After the sculpture is dismantled, it will be melted into steel ingots that will be reused, and the rest of the installation will be recycled as part of the designer's mission to reduce her carbon footprint.
Watch Es Devlin's 2018 Design Indaba Conference talk here.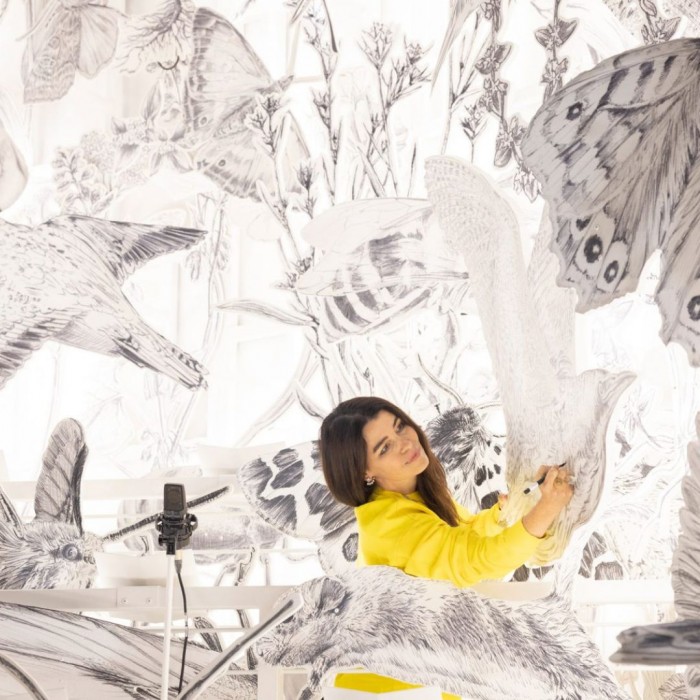 Read more:
Former Design Indaba Speaker, Es Devlin presented her Conference of the Trees at COP26.
Credits: Es Devlin