Watch the Trailer
Watch a short trailer to get a taste of this conference talk.
Download
options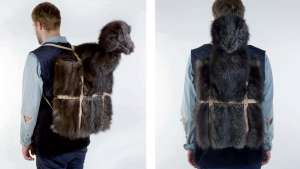 Download: Brynjar Sigurðarson on the relationship between objects and stories
Click on a link to download the video file
Product designer Brynjar Sigurðarson is interested in how objects and stories are related. In this quirky and humorous Pecha Kucha talk at Design Indaba Conference 2012, Sigurðarson speaks about making a fictional character so that he can also make the objects around the character. He created a backpack resembling an animal to help his fictional character while hunting in the woods. The backpack allows easy transportation of objects needed for hunting while attracting other animals. He further tells a story of a man and his coffee mug on a fishing boat in Iceland.
Watch the Interview with Andy Chen, Renée Rossouw, Massoud Hassani, Rahim Bhimani, Carly Berger, Sputniko!, Brynjar Sigurðarson