Youth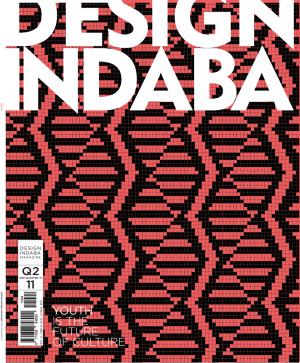 The most radical ideas at the Design Indaba Conference always emerge during the Pecha Kucha presentations of the top graduates. This year, for instance, we heard about simulating a rocket launch at home from Nelly Ben Hayoun, as well as repurposing a robot to produce chairs out of recycled refrigerator plastic from Dirk van der Kooij. At the Design Indaba Expo too, it is the Emerging Creatives whose designs show the most innovation year after year. And even at the Milan Furniture Fair, it is the university exhibitions that show the most radical proposals.
It's easy to see why students, free from commercial constraints, have the ultimate creative freedom to challenge pre-existing design definitions, systems, functions and aesthetics. However, looking at the creatives featured in this "Youth" edition of the Design Indaba magazine, each of the under-35s have figured out their own way to maintain their creative integrity by not following the typical pre-ordained path to "success".
In fact, as Christien Meindertsma and Maarten Baas discuss, what is "success" anyway? Is it about going big or is it about finding a creative enclave in which you can explore design on your own terms and make an engaged impact? Many of the young South African furniture designers featured in the Made photoshoot by Paul Ward agree that success requires an element of autonomy. The success of product designer Dror Benshetrit and the animators from Shy The Sun is also about a give-and-take between commercial concerns and creative freedom.
Perhaps the South African photographers and illustrators, with the immediacy of their medium, best capture the essence of this generation. In fact, does this attitude extend beyond the creative class to encapsulate the pop culture generation of hipsters? With the current trends of cultural recontextualisation, anti-fashion threads, solemn independence, and DIY attitude towards multifarious talents and occupations, the creative attitude does seem to be spreading further than merely practitioners. Susie Hunt contextualises this among the Chinese youth, while Chris Harrison sees a budding future thanks to the youth of Africa.
Cultural revisions, localisation and conceptual heritage are other prevalent themes, from the work of Meindertsma and Baas, through to artist Zander Blom, textile designer Laduma Ngxokolo, pattern designer Renée Rossouw, chef Kobus van der Merwe, interaction designer Rahle Dusheiko and the Brazilian quartet at Fibra. Fibra, like Meindertsma, are also particularly interested in re-evaluating the world's relationship with materials.
Re-evaluation seems to be the keyword across this "Youth" edition. As these youngins grow older, taking up leadership positions in the design industry, it is an exhilarating thought to think that nothing they turn their attention to will be taken for granted. Instead, everything is up for re-evaluation and re-design. - Nadine Botha