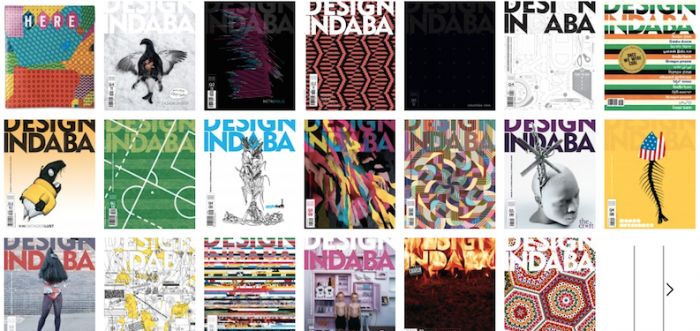 The quarterly Design Indaba magazine was a print magazine published from 2001 to 2011. Offering an inclusive view of design, it features disciplines from fashion, architecture and animation to product, interior, industrial and jewellery design. All magazine articles have since been made available on designindaba.com, Design Indaba's primary content platform.
Click here to browse all magazines.
The foundational purpose of Design Indaba magazine was to spread the impact and values of the Design Indaba Conference and Expo throughout the year, reaching people unable to attend, reinforcing fraternity within the creative industries as well as increasing local consumer awareness of high-quality design. Today, designindaba.com fulfils this function, even more so than the magazine was ever able due to its unlimited global reach.
Awards
Design Indaba magazine is the winner of 12 international and 6 national awards. It is the only African magazine to win the Best Design for New Magazine Award at the Folio Show in New York and won gold again in the Open Category in 2005. In 2009 it was included in Colophon's Top 100 Most Innovative Magazines in the World.
2001 Phillip Tyler Trophy for Innovation in Publishing (MPASA)
2002 The Magazine Publishers Association of SA for Sappi: Pica Gold Award in the Business-to-Business category
2002 Ozzie Award: Honourable Mention for Best Overall Design in the Custom Publication category
2003 The Magazine Publishers Association of SA for Sappi: Pica Gold Award in the Business-to-Business category
2004 The Magazine Publishers Association of SA for Sappi: Pica Customer Magazine Award in the Entertainment and Arts category
2004 Silver Ozzie Award, Folio Show: Business to Business under 100 000, Best Overall Design
2005 Bronze Ozzie Award, Folio Show: Business-to-Business under 100 000, Best Feature Design
2005 Bronze Eddie Award, Folio Show: Business-to-Business under 100 000
2006 Award of Excellence, Communication Arts (US)
2007 The Magazine Publishers Association of SA: Pica Gold Award for Leisure and Lifestyle
2008 Three international Tabbie awards for business-to-business publications
2008 The Magazine Publishers Association of SA: Pica Gold Award for Best Cover
2009 Colophon's Top 100 Most Innovative Publications in the World