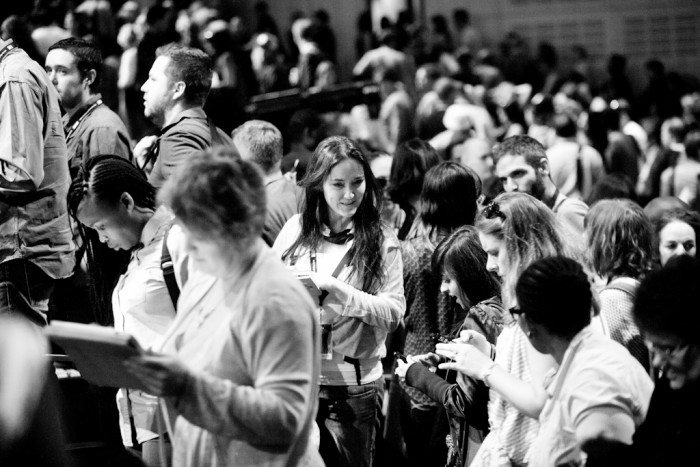 WHEN IS THE NEXT CONFERENCE AND SIMULCAST?
Design Indaba Conference 2020 is being held for three days from Wednesday 26 February to Friday 28 February and will be held in the Opera House of the Artscape Theatre Centre in Cape Town.
WHERE CAN I FIND ALL INFORMATION ON DESIGN INDABA CONFERENCE AND SIMULCAST, AND OTHER EVENTS?
All Festival information can be found on the website. Please use the top navigation for information on the various aspects of the conference.
To book your Conference ticket click here or your Simulcast ticket click here.
HOW DO I BUY TICKETS?
You can buy tickets to all Festival-related events online.
To book your Conference ticket click here or your Simulcast ticket click here.
WHAT DISCOUNTS ARE AVAILABLE?
The following group discounts are available off the full 3-day Conference ticket price:
Small Group discounts of 5%, applicable to purchase of 5 to 10 tickets;
Medium Group discounts of 10%, applicable to purchase of 11 to 25 tickets;
Large Group discounts of 15%, applicable to purchase of 26 tickets or more.
In order to receive a group discount, the purchase of the tickets for the group must take place in a single transaction.
The following other special discounts are available off the full Conference ticket price –
Early Bird discounts of 10%, applicable to a limited number of tickets purchased on a first come, first served, basis;
Loyalty discounts of 15%, applicable to delegates who have attended two or more full Design Indaba Conferences, subject to verification of names before the event;
Academic discounts of 15%, applicable to delegates who are employed by registered educational institutions, subject to proof being provided at event registration;
Student discounts of 15%, applicable to delegates who are registered as students at valid educational institutions, subject to valid proof of registration being provided at event registration
One delegate may not benefit from more than one discount.
In respect of Simulcasts, discounts on the full price are only applicable to delegates who are registered as students at valid educational institutions, subject to valid proof of registration being provided at event registration.
WHAT BEE BENEFITS ARE AVAILABLE?
Design Indaba is a Level 1 BEE company. Companies are able to claim for procurement points on their BEE scorecard.
WHAT DOES MY CONFERENCE TICKET INCLUDE?
Your Conference pass (not applicable to Design Indaba Simulcast) includes lunch and tea each day and access to Design Indaba each day of the conference.
Final details will be sent to you in a pre-event mailer, from hello@designindaba.com.
WHAT DOES MY SIMULCAST TICKET INCLUDE?
For the Cape Town Simulcast only (not applicable to other cities) each attendee receives a daily food voucher that can be redeemed at one of the vendors at the venue.
For other Simulcasts, please do confirm with the ticket provider in your city what refreshments and entertainment will be available at your event.
WHY DOES THE CAPE TOWN SIMULCAST COST MORE THAN OTHER CITIES?
Cape Town Simulcast delegates are privy to a much fuller Design Indaba Experience, including networking opportunities at the main event. The Cape Town Simulcast also includes other live events at the main conference venue that other cities can't access.
CAN I BUY TICKETS AT THE EVENT?
If tickets for an event are still available at the time of an Event, tickets may be purchased at the venue, but a premium fee will be charged for the Conference event (not applicable to Simulcasts) to cover the additional administration costs of on-site registration.
CAN I PURCHASE A ONE-DAY TICKET AND SHARE IT AMONGST A GROUP?
Sharing of tickets is not permitted. Each ticket allows admittance of one person only.
By purchasing a ticket to the conference, you agree to submit to the use of a biometric fingerprint scanner, which is used for purposes of linking a ticket to an individual person.
HOW DO I COLLECT MY TICKET AND REGISTER FOR THE CONFERENCE?
Once you have completed your Webtickets booking and full payment has been received, you will receive your ticket via email or your mobile phone. You will then be added to our delegates database.
Registration is at the venue on the Tuesday 25 February 2020 before the Conference, from 12:00 to 17:00, and on the Wednesday morning (Day 1 of the Conference) from 07:00.
On-site accreditation stations will be set up on the piazza of Artscape from the Tuesday.
Delegates must present their ID, Webticket and supporting documents (if applicable to discounts) for registration.
During the Conference, late registration will be open on Wednesday until 18:00; Thursday from 07:00 to 17:00; and Friday from 07:00 to 10:00.
No registration is needed for the Simulcast. Attendees must arrive with their ticket from 07:00 and then be scanned in and accredited upon arrival.
Attendees will be able to arrive at Simulcast from 07:00 (Cape Town) and 08:00 onwards (in all other cities) Wednesday to Friday.
The Conference and Simulcast will commence each day at 09:00 sharp so please arrive early to be registered and seated on time.
DO YOU DO OFF-SITE REGISTRATIONS?
Yes, where there are groups of 10 or more paid up Conference delegates (not applicable to Design Indaba Simulcast). The organiser will schedule an appointment with the team leader to arrange a suitable time to visit your office and register your delegates. Off-site registration is available in Johannesburg and Cape Town. We do not do individual off-site pre-event registrations.
This will take place two weeks prior to the Conference (exact dates to be confirmed). To be eligible for off-site registration or groups, we will need all names wanting offsite registration by 26 January 2020. Please send these names to mehtaab@interactiveafrica.com.
Although pre-event registration can be done off-site, delegate packages may still need to be collected at the venue on the day of the event.
Where payment is received after 26 January 2020 in respect of a group, such groups are not eligible for off-site registration.
IF I CANCEL MY ATTENDANCE, DO I GET A REFUND?
No refunds are payable in the event that you cancel a ticket.
If you are unable to attend the conference we welcome substitute delegates attending in your place at no extra cost provided that we have at least 2 weeks prior notice of the name of your proposed substitute and have received payment in full. Please notify us of any substitutions by email at: mehtaab@interactiveafica.com.
WHERE IS THE EVENT AND WHAT ABOUT PARKING AT THE VENUE?
The 2020 Design Indaba Conference and Simulcast takes place at the Artscape Theatre Centre in Cape Town. We encourage use of public transport as street parking is very limited in the vicinity of the Artscape theatre. Where street parking is available, delegates are responsible for payment of their own parking. Limited parking is available onsite and details thereof will be communicated via the pre-event mailer.
CAN I GET A COPY OF A SPEAKER PRESENTATION OR TRANSCRIPT?
Videos of all the speaker presentations (some as far back as 2006) are available to watch or download for free on designindaba.com/talks. Articles, interviews and profiles on most of the speakers (including the latest in global design news) are also available on designindaba.com. Speaker talks are historically made available online post the respective conference.
HOW DO I REGISTER TO ATTEND AS MEDIA?
Media accreditation is provided to limited numbers of press representatives. Accreditation to the Main Conference venue is by invitation only and subject to the discretion of the organisers. For media updates sign up to our press mailing list.
CPD POINTS FOR ARCHITECTS
All professional/registered architects can claim CPD points for Design Indaba Conference under category 3. Architects can do this by completing and submitting a form, which can be downloaded from the website of the institute with which they are registered. The event organisers (in this case, Design Indaba) only have to supply applicants with an attendance verification letter. Please find more information on sacapsa.com. Please note that all persons registered by SACAP will be eligible to claim points.
ARE MY PERSONAL ITEMS COVERED UNDER DESIGN INDABA'S INSURANCE?
Conference participants are responsible for taking appropriate insurance cover in connection with their attendance at the Conference. The conference organisers and hosts or any individuals associated with the conference or hosts in any capacity shall not be liable for any kind of loss or damage to personal property, delegates or exhibitors.
HOW CAN I BE KEPT INFORMED OF INFORMATION REGARDING THE EVENT?
To ensure you receive important mailers regarding the event, please add hello@designindaba.com to your list of "safe" emails so you may receive your mailer timeously and be aware of any essential communications. If you have unsubscribed from our emails at any point, note that you will NOT receive our communication so please use a new email address or re-subscribe to our mailing list.
WHAT TERMS AND CONDITIONS ARE APPLICABLE?
Purchase of tickets for, and participation in, the Design Indaba and its associated events is subject to our Terms and Conditions which can be accessed here. PLEASE NOTE THAT THESE TERMS AND CONDITIONS CONTAIN SPECIFIC PROVISIONS TO LIMIT OUR LIABILITY, ALLOCATE RISK OR LIABILITY TO YOU, OR CONSTITUTE ACKNOWLEDGMENT OF FACTS BY YOU. PLEASE PAY PARTICULAR ATTENTION TO THESE TERMS.
The relevant Terms and Conditions of our ticketing agent, Webtickets, which can be access on their website, www.webtickets.co.za.
READ MORE ABOUT THE DESIGN INDABA CONFERENCE: