The ANNA Award, inaugurated in 2022 to 'discover, recognise and nurture a new generation of women-identifying artists from the African continent and the diaspora', has this year been won by Cairo-based Egyptian artist Nada Baraka.
A painter who seeks to narrate her experience of gender, identity and aesthetics with expressionist brushwork and surrealism, Baraka's artworks are described as 'maintaining an endless, active state of flux, swaying between abstract and surreal', with 'evocative application and vivid colours'.
Born in Cairo in 1990, Baraka graduated with a Bachelor's degree in Visual Arts and Mass Communication from the American University in Cairo in 2012, after which she completed her Masters in Fine Art at Central Saint Martins college of the University of the Arts London. Following her first solo exhibition, Fractals, in Cairo in 2015, Baraka has gone on to participate in group exhibitions around the world.
'As a female who believes in women empowerment and who struggles daily in a country that has one of the highest rates of harassment, it is important to keep pushing and to pursue my practice loudly and proudly, to have a voice that will continue to evolve,' said Baraka. 'This will happen by experimenting more frequently, trying new mediums and exploring new topics as well.'
Among the 12 finalists chosen from 703 nominations received from 28 African countries were former Design Indaba Emerging Creatives Mikhailia Petersen and Charity Vilakazi, alongside South African artists Bulumko Mbete, Lebogang Mabusela and Buqaqawuli Nobakada (who claimed the ANNA Audience Award, voted for by the public).
This year's winners were chosen by a selection committee made up of lawyer and art collector Samallie Kiyingi; popular radio host, actor and public speaker Bridget Masinga; art curator and development strategist Jana Terblanche; and entrepreneur and investment banking professional Freda Isingoma.
The annual ANNA Awards are presented by two female-centric South African brands: ANNA, makers of the first locally manufactured, environmentally friendly and organic feminine hygiene product range, and African art agency Latitudes. The awards aim to celebrate women-identifying African artists showing 'extraordinary originality, imagination and dedication to their creative pursuits'. No age restrictions apply and no formal art training is required, and nominations of artists from around the African continent are welcomed.
Find out more information about the winners here: The 2023 ANNA Award Winner is... (latitudes.online).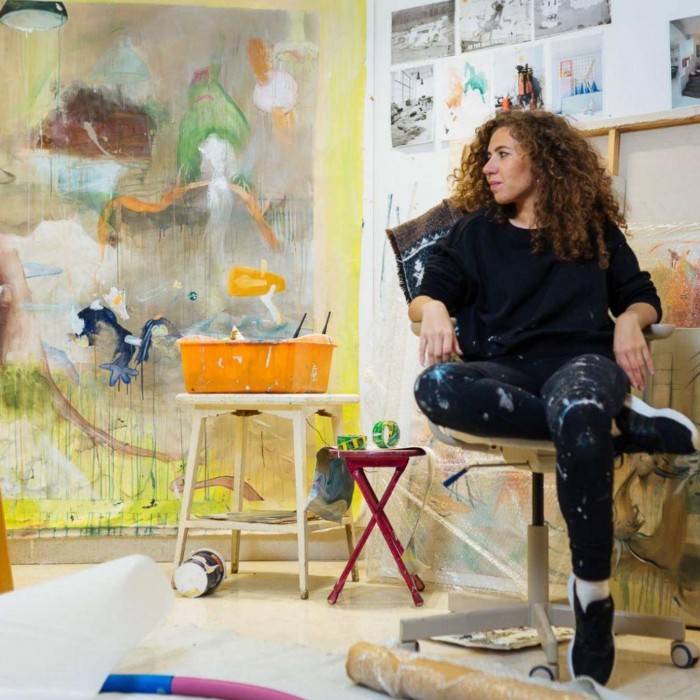 Winner Nada Baraka.
A work by Buqaqawuli Nobakada, who claimed the ANNA Audience Award.
Read more
Photographs: Nada Baraka, Buqaqawuli Nobakada.