The renowned Japanese artist behind surreal worlds of dots presents a major site-specific exhibition that celebrates three decades of her inflatable artworks, bringing them together in one space for the first time.
Yayoi Kusama's You, Me and the Balloons was curated specifically for Aviva Studios, a brand-new venue in Manchester, UK, designed by OMA lead architect Ellen van Loon. The vast factory-like building is the perfect setting for this remarkable collection of artworks, which immerses visitors in a psychedelic fantasy world drawn from the artist's mind.
Many of the inflatable artworks tower at over 10m tall, with giant dolls, spectacular tendrilled landscapes and polka-dot spheres dwarfing visitors. The size of the works in their environment is important, says Kusama: 'Inflatable works expanded my creative means in terms of scale that could not have been achieved by stuffed soft sculptures, and the freedom of placing them up in the air.'
When entering the exhibit, guests walk through a tunnel leading to 'The Hope of the Polka Dots Buried In Infinity Will Eternally Cover the Universe' (2019), a 12m-tall mixed-media biomorphic tentacle installation. This is followed by the iconic 'Dots Obsession' series, 'Ring Ring', 'Life Of The Pumpkin Recites, All About The Biggest Love For The People' and a new iteration of 'Clouds' (2023), which features a series of cloud sculptures scattered on the floor designed for visitors to sit or lie on, offering a moment for reflection.
One of the few non-inflatable artworks in the exhibition is 'Song of a Manhattan Suicide Addict', a video projection that shows the artist singing about her experience dealing with depression. Kusama, who has resided in a mental-health facility since the 1970s – which she leaves daily to walk to her nearby studio to work – has always been open about her mental health.
You, Me and the Balloons is both a wondrous escape from reality and a call to action, with the artist inviting us collectively to reflect on our miraculous capacity to imagine, to create, to enjoy beauty and to love. Expressing the wish that visitors experience the show as a 'wonderland', she says, 'For me, the world is genuinely full of surprises. It is not that I want to inspire childlike awe or wonder, but to inspire through my genuine perception of the world.'
The exhibition closes on 28 August 2023.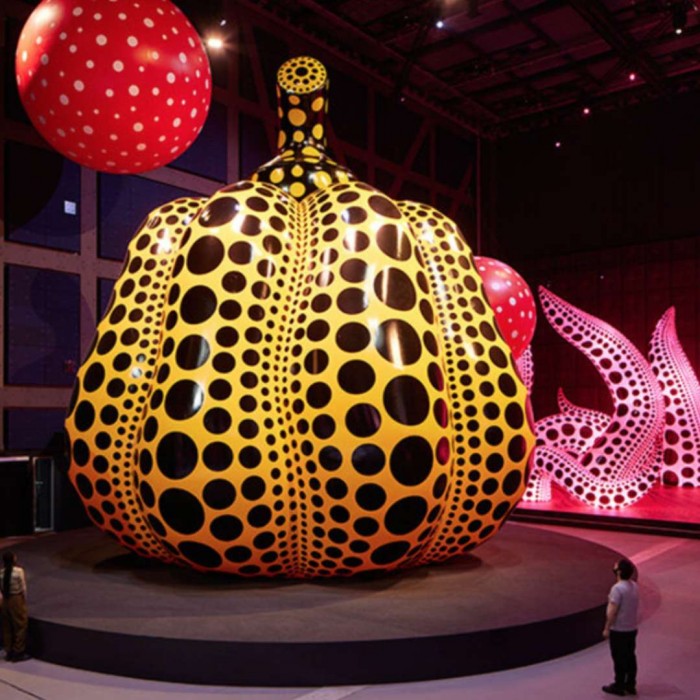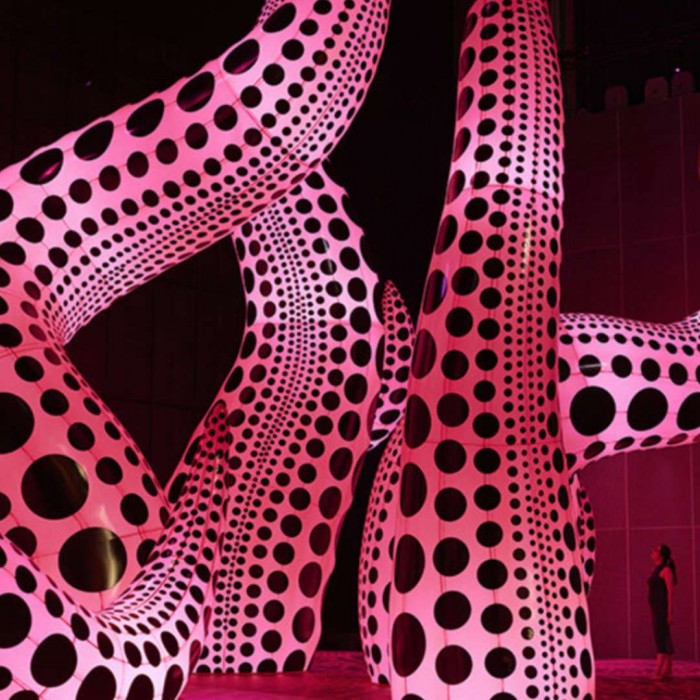 Read more
Photographs: David Levene.