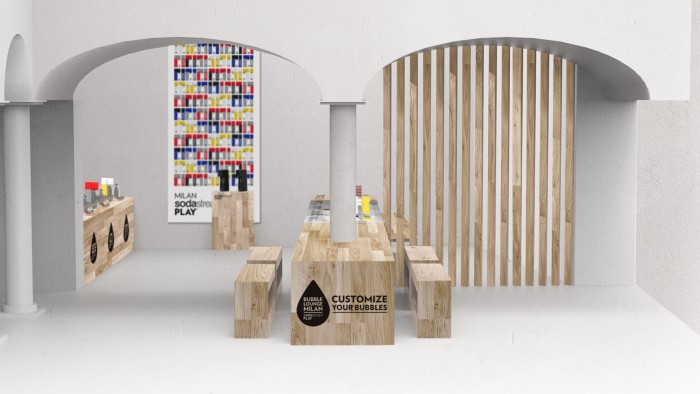 Bubble Lounge by Yves Béhar for SodaStream.
Yves Béhar invites visitors to experience bubbles like never before at this year's Salone del Mobile.
San Francisco-based designer Béhar has extended his collaboration with the leaders in home beverage carbonation systems, taking over a central space at EDIT by designjunction to launch two new products, the SodaStream Play and Source Touch. The launch takes place in Bubble Lounge, an interactive installation curated by leading designer, entrepreneur and sustainability advocate Béhar.
The Bubble Lounge is designed to engage and involve visitors in the customisation process, which is integral to SodaStream.
I wanted to create a do-it-yourself environment by extending people's experience of mixing their own drinks to building their own machines. It's a simple idea that awakens the 'maker' in all of us, whilst making the right consumer choice environmentally and having fun in doing so, says Béhar.
The lounge features a working production line that offers visitors the opportunity to pick and choose different coloured parts to create their own Play machine. A long table displays the various coloured parts alongside different flavoured soda drinks, allowing users to gather, relax and enjoy SodaStream and all it offers.
The Bubble Lounge installation will be open to the public during Salone del Mobile 2014 until 13 April 2014.
Watch the Talk with Yves Béhar