The Pantone Colour Institute has selected a colour for the year 2023 that perfectly captures the zeitgeist of the time: Viva Magenta 18-1750.
The selection by the global colour authority, made annually for the last 23 years, draws on extensive research of trends and colour influences everywhere, from entertainment to nature, with a team of curators searching the world for a colour that represents a global attitude.
'In this age of technology, we look to draw inspiration from nature and what is real,' says Leatrice Eiseman, the Executive Director of the Pantone Color Institute, about the 2023 choice. 'Viva Magenta descends from the red family, and is inspired by the red of cochineal, one of the most precious dyes belonging to the natural dye family, as well as one of the strongest and brightest the world has known.'
Over the previous two years Pantone selected colours that represented a global society navigating the turbulence and uncertainty of the Covid-19 pandemic, with the calming duo Illuminating and Ultimate Gray for 2021, and the uplifting pastel purple Very Peri for 2022. For 2023, Pantone has chosen a colour that is more vibrant, representing 'reassurance, confidence and connection in a world trying to get back on its feet'.
The much-anticipated Colour of the Year, which is paired with a complementary palette of pared-down neutrals, such as Pale Khaki and Gray Sand, is described as a hybrid shade that symbolises our modern existence in both the physical and digital world. 'Rooted in the primordial, Viva Magenta reconnects us to original matter. Invoking the forces of nature, Viva Magenta galvanises our spirit, helping us to build our inner strength,' says Eiseman.
In the spirit of the digital inspiration behind the colour, Pantone exhibited an immersive exploration of Viva Magenta at Miami Art Basel early in December 2022. With the help of the AI art tool Midjourney and creative studio Huge, Pantone created the 'Magentaverse', a digital world that explored the colour theme and examined its potential in both the natural and digital realms.
Explore the Magentaverse here https://inda.ba/3FHLM0y.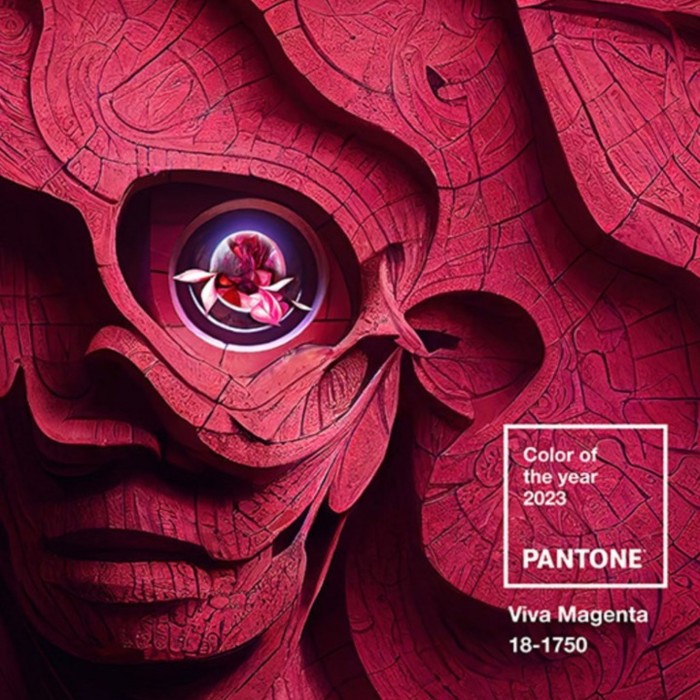 Read more
Telling stories through colour
Photograph: Pantone.