London-based artist Morag Myerscough is world famous for her bold, colourful installations. Recently, she worked alongside the Sheffield Children's Hospital's charitable arts programme Artfelt and personal-care product company Method to turn an underused outdoor space into a Joy Garden for children and visitors.
She collaborated with Sheffield Children's Hospital previously, in 2017, when she created four bright, bold designs for 46 en-suite children's bedrooms, establishing a close connection to the hospital and its patients and staff. It was during that time that Myerscough encountered the underused space and knew that it had the potential to be transformed into a 'beautiful, functional garden that would benefit everyone'.
Having received extremely positive feedback for her previous colourful hospital designs, Myerscough knew that colour was important to the children during their recovery. The Joy Garden includes a brightly coloured pavilion and outdoor seating area filled with geometric patterns and line art that cover both the exterior and the interior. 'The courtyard can be a quiet, thoughtful place or a buzzing hive of activity. My work just sets the scene and hopefully brings some joy just by looking at the colours through the windows.'
It was important to Myerscough that the garden was constructed in collaboration with local craftspeople. The main structure was created by Design Workshop, a fabricator based in Sheffield, while the panels were painted using eco-friendly paint gifted by YesColours. The garden's geometric flooring was provided by Geveko Markings, and the floor mural, originally designed for another public artwork in London, was repurposed for the Joy Garden.
For the Joy Garden design, the Design Indaba alum took no fee, and she was able to fund the space at no cost to the hospital thanks to support from Method. Myerscough explained to Design Week UK that the aim of the project was to make an outdoor space that could be enjoyed throughout the year.
Earlier this year, Myerscough created a colourful re-creation of the Housesteads Roman Fort gatehouse alongside Hadrian's Wall, which offered visitors never-before-seen views of the ancient site.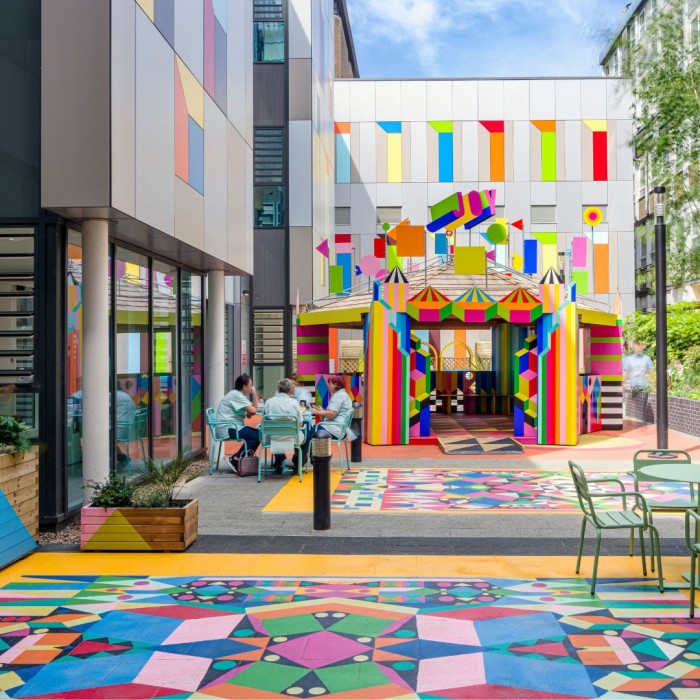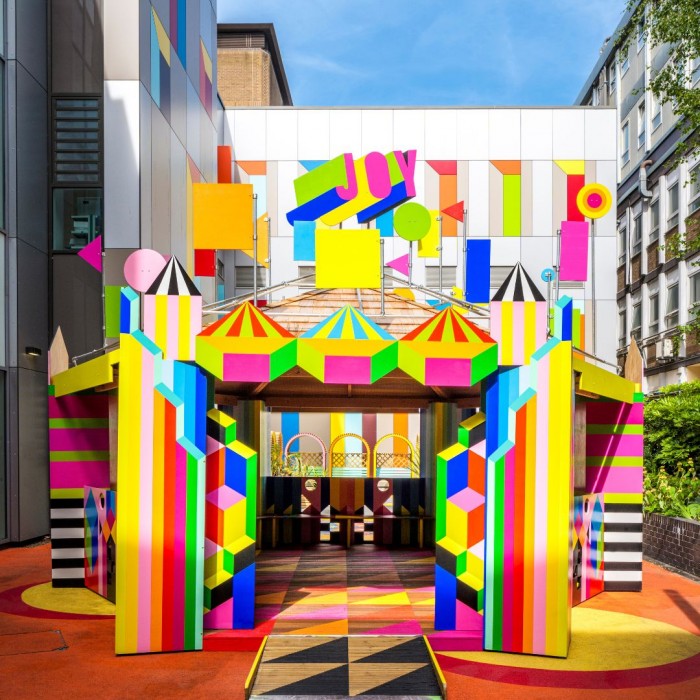 Read more
Morag Myerscough's #CleanPower installation brightened up COP26
Credits: Morag Myerscough and Gareth Gardner.