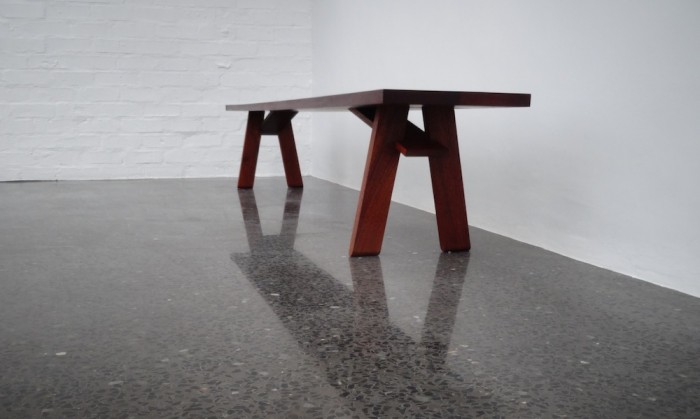 Eve bench by Frank Böhm Studios.
Frank Böhm Studios' newly launched wooden Eve bench is Shaker-like in the simplicity of its lines and artisanal attention to detail. Balancing angled legs and diagonal support beams are unadorned, letting the material do the talking. That Böhm, an architect, loves working with wood is unquestionable; it's the material he works with most often, sometimes integrating steel, glass or stone.
His intention when working with wood is always to pay respect to its "honest, raw, organic and natural state". In practice this involves both revealing as much of the material's inner beauty as possible, while at the same time preserving surfaces and preventing any masking that could obscure its tactile qualities. He has used a dark African mahogany for the entire construction of the bench, giving it a unity of form.
The Eve bench is something of a departure for the studio, as its refined shape contrasts with the more chunky furniture in their collection. It's also more geared towards production in that the design can be replicated identically each time, unlike his other pieces that rely on finding forms reproduced by nature.
The bench will be the centerpiece of a new range, currently in production. The next offering, the Light Bench, is being manufactured and a third bench is in the works too.