A wave-like outdoor artwork made from more than 400 cast-glass columns has been opened at the Apple Park Visitor Center in California. 'Mirage', created by Glasgow-born artist Katie Paterson and architectural studio Zeller & Moye, features hundreds of cylindrical sculptures made of sand collected from deserts across the planet.
Set within a small park, the newly opened piece welcomes visitors to reflect on and interact with the liquid-like, translucent material representing dunes. The cast glass is smooth, with characteristic bubbling and subtle variations of colour caused by the different forms of sand found in mountainous deserts, subtropical deserts, coastal deserts, rain-shadow deserts, volcanic deserts, polar deserts and even fossilised deserts. Visitors are encouraged to meander through the waves, which provide both a tactile experience and the opportunity for an 'imaginative journey' through their deserts of origin.
'The glass pillars connect earth and sky,' writes Apple of 'Mirage'. 'Olive trees and grasses within the sculpture create an interior garden. The sculpture curves around the trees, its form fading in and out of view. The glass subtly melts into the landscape, like a desert mirage. Inside, visitors gaze into deep time through each of these distant epochs and places, the material of time fused together, millions of years merged.'
Each of the two-metre-tall whole single glass cylinders was cast by expert glassmakers with guidance from material scientists. Glass experts at the Delft University of Technology in the Netherlands analysed wild desert sands from every corner of the globe and performed elaborate studies in order to predict the composition and coloration of each glass column, after which they created bespoke recipes of glass for each desert.
The team behind the installation collected the sand sustainably, in partnership with the United Nations Educational, Scientific and Cultural Organization's (UNESCO's) international geoscience and geoparks programme, making an effort to honour the people who nurture, conserve and sustain the world's deserts.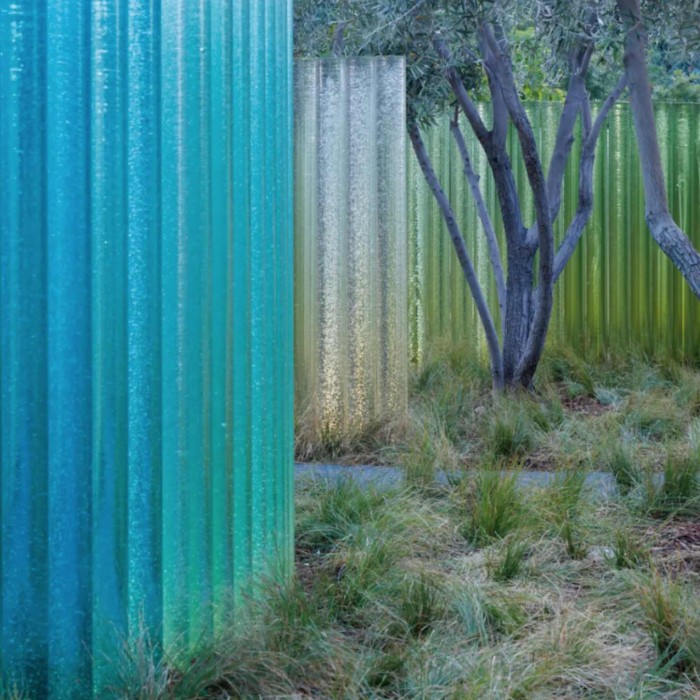 Read more
Photographs: Apple, Katie Paterson, Zeller & Moye.