Design Indaba Nightscape 2017

A surreal wonderland of music, art, food and exhibitions at Design Indaba Nightscape. Feast on creativity and immerse yourself in a dreamscape of ideas and innovation. Only R200 for a 3-night pass.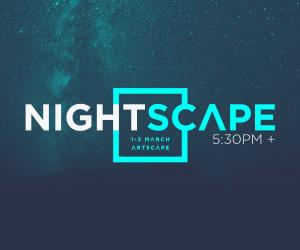 For the first time ever, Design Indaba presents Nightscape at its annual Festival of creativity. The Artscape Piazza will open up to the public from 17:30 each night of the Festival with an explosion of music, art and design installations, with food, drink and festivities, alongside our FilmFest and exhibitions of Emerging Creatives and the Most Beautiful Object in South Africa.
Head over to the IndaBar for an icy drink, immersed in the afterglow of creative ideas shared that day, energised by an epic music lineup of live music and DJ sets as the sun goes down. Stroll over for a bite to eat at the city's best food trucks, and grab a seat at the FilmFest for a screening of a premiere feature film or short film programme shown for the first time on the African continent. Browse our design exhibitions and shop from a collection of newly released African designs.
Whatever your creative fancy, you'll find something to satiate it at the Design Indaba Festival from 1 to 3 March. Don't head home at 5pm – find a creative space at the Design Indaba Nightscape that speaks to your soul, and stay a while
COME PLAY Pencils down, dancing shoes on, the night is young. It's you inside a surreal wonderland of music, food, art and design. Mouth agape. Mind blown.
Event Information

Event Information

Wednesday, 1 March, 2017 (All day)

Thursday, 2 March, 2017 (All day)

Friday, 3 March, 2017 (All day)

Venue: The Artscape Piazza

5:30pm till late
Tickets R80 online
R200 for a 3-day pass
R100 per night at the door
R250 for a 3-day pass at the door

Buy Tickets

Ticket Information

Tickets R80 online
R200 for a 3-day pass
R100 per night at the door
R250 for a 3-day pass at the door
More About Design Indaba Nightscape 2017
Pages