Design IndaBar 2017

Alongside a pop-up bar, live music and other exclusive performances take to the stage every lunchtime and after 5pm at the annual Design Indaba Festival at the Artscape Theatre Centre in Cape Town.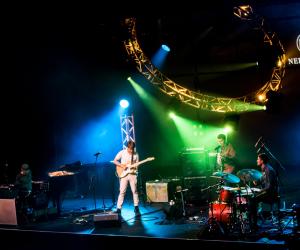 Design "In-da-Bar" is the pop-up bar at Design Indaba Festival that keeps conference delegates and festival revellers going well into the evenings of creative celebration.
So much more than a bar, the 2017 festival will bring the weird and wonderful of installation and performance into an outdoor experience brought together by creative direction from fashion designer Selly Raby Kane.
No bar would be complete without music, and music is as much a part of creative innovation as any other aspect of design. Live music – both in the evenings and during lunch – thus forms a cornerstone of this festival arena.
Design IndaBar is also the perfect networking and relaxation opportunity for festival-goers. Set on the lively piazza of the Artscape Theatre, IndaBar features live performances, food trucks and exciting entertainment against the exquisite backdrop of Cape Town's late summer skyline.
Separate headlining music events will also be held in the evening(s) during the course of the event.
Event Information

Event Information

Wednesday, 1 March, 2017 (All day)

Thursday, 2 March, 2017 (All day)

Friday, 3 March, 2017 (All day)

Venue: Pop-up bar and music stage on the Piazza