Download
options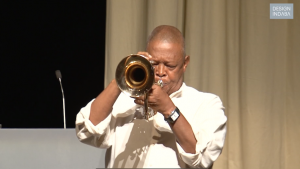 Download: Hugh Masekela in conversation with Stewart Levine
Click on a link to download the video file
Hugh Masekela and Stewart Levine first met in 1961, while at the Manhattan School of Music. They would go on to form their own record label called Chisa records a few years later.
In 1974 Levine produced a music festival to coincide with the Ali-Foreman fight in Zaire, bringing together black American soul stars and African music greats. In 1996 the event was chronicled in the Academy Award-winning When We Were Kings.
Bra Hugh, as he is affectionately known, first picked up a horn at age 14 and was still blowing strong on stages worldwide until he was diagnosed with cancer and died at the age of 78 this week.
He has released over 40 solo albums and his single "Grazing in the Grass" won him a Grammy in 1968.
In this conversation recorded in 2011, Masekela and Levine talk about the many legends Bra Hugh worked with including Harry Belafonte, Dizzy Gillespie, The Byrds, Miles Davis, Paul Simon and Miriam Makeba as well as his life in the US.
Watch the Interview with Hugh Masekela