Design Indaba FilmFest 2017

Experience the power of creativity through the medium of film at Design Indaba's annual FilmFest, this year held at the Artscape Theatre in Cape Town.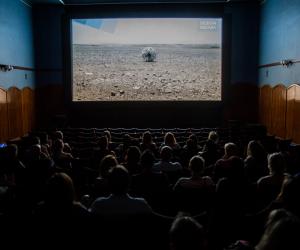 The Design Indaba FilmFest is a showcase of the world's best indie and creative films, screened at the annual Design Indaba Festival in March 2017. All of the films selected for this once-off programme are African premieres, to be shown on African soil for the very first time.
Cape Town is a city of romantics – strolling through exhibitions, attending evening gigs from the immense supply of talented music artists, and sitting down to enjoy a good, old-fashioned movie.
For Design Indaba Festival we bring these together and one of the highlights is the annual Design Indaba FilmFest. Feast your mind on a different African premiere each night of the Festival. Never-before-seen feature films and short films come to life at the Artscape, where you can catch a drink, see incredible exhibitions and have a listen to the country's (and the world's) best musicians before heading in to see a film that no one on the African continent has viewed before.
The Cape Town International Animation will also be premiering a very special project in collaboration with Design Indaba during the FilmFest, so stay tuned for more details.
Design Indaba FilmFest 2017 will showcase a combination of feature films and short films over three nights at the Artscape in Cape Town, from 1 to 3 March, for R80 a ticket. The Labia will screen Nocturnal Animals on Saturday 4 March at R50.
Event Information

Event Information

Wednesday, 1 March, 2017 - 18:00

Thursday, 2 March, 2017 - 18:00

Friday, 3 March, 2017 - 18:00

Venue: The Arena Reserve your seat

Ticket Information

Tickets are R80 online. As the Film Festival is part of Design Indaba Nightscape, FilmFest ticket holders get free access to music, art and design exhibitions and installations, bars and food trucks at Design Indaba Festival from 17:30 onwards.
More About Design Indaba FilmFest 2017