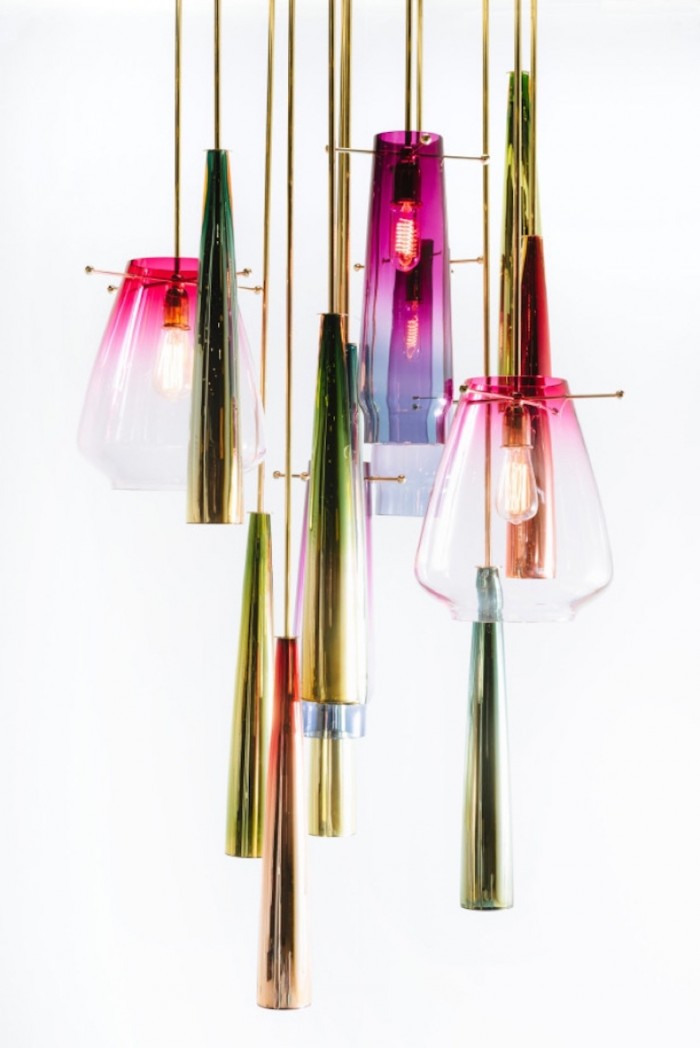 Sunu Gonera
Zimbabwean filmmaker Sunu Gonera wants to "take the light of Africa to the world", to take the stories of Africa to the world. He shared his award-winning Khuli Chana One Source music video for Absolut during his talk, as well as the video for One Source LIVE for Absolut, which focuses on African superheroes. It came as no surprise that he received a standing ovation.
Aleksandra Gosiewski
This talented New York-based fashion designer, one of Design Indaba's Global Graduate speakers, in this case hailing from the Fashion Institute of Technology, is a founding member of Algiknit. This research group creates fibres from kelp. Would you believe these sustainable sneakers are actually made using a combination of kelp and biopolymers?
Zach Lieberman
American artist Zach Lieberman, who loves visuals that make your brain work a little harder, creates artworks using code. He posts a new sketch on Instagram every day.
Tomo Kihara
Tokyo-based playful interventionist and design researcher Tomo Kihara, one of Design Indaba's Global Graduate speakers, wants to popularise the practice of street debating, which involves collecting public opinions in exchange for spare coins. You can read Tomo's research here. Those struggling with financial difficulties can buy the product for free, with the design going up to 50 Euros.
Edel Rodriguez
Some of the more recent work of artist and activist Edel Rodriguez has seen him create a series of memorable (and controversial) works relating to Donald Trump's presidency, including the below magazine covers for TIME.
Morag Myerscough
London-based multidisciplinary designer Morag Myerscough is known for her colourful creations and bold use of typography. She even created a giant installation on the Artscape's Piazza as part of the Design Indaba Festival, seen below. Her advice: "You all need to remember to play. Embrace the unknown."
Lonny van Ryswyck of Atelier NL
Dutch product designer Lonny van Ryswyck is one of two designers behind a very interesting project called A World of Sand. The studio is calling on people across the globe to send them a sample of sand that Atelier NL will then melt into glass, revealing the specific attributes and colours of the sand from that region. The results, seen below, are amazing. You can submit your sample here.
Thomas Heatherwick
This London-based architect and designer, behind the spectacular Zeitz MOCAA in Cape Town, shared both his earlier work, including a pavilion created 26 years ago and the 16-storey-high Vessel project in New York, currently under construction.
Alexander Groves and Azusa Murakami of Studio Swine
This British artist and Japanese architect create beautifully designed artworks from unusual materials, including chairs from bits of plastic found on beaches to cabinets made out of aluminium foam (you can read more about the duo's work here). Their latest project is called New Spring, an interactive tree-like sculpture that uses technology to produce "blossom" bubbles.
Dr William Mapham
Another standing ovation came for Dr William Mapham, who is behind the creation of Vula, an app that assists healthcare workers in rural areas by connecting them with specialists across the country. You can read more about this project here.
Amna ElShandaweely
For Egyptian fashion designer and activist Amna ElShandaweely, changing the world through design and art is paramount. A recent collection, entitled Cairo Punk (seen below), is a proud reflection of her culture.
Peter Veenstra
Landscape architect Peter Veenstra of LOLA Landscape Architects revealed a plan, hatched in conjunction with Design Indaba and bamboo architectural specialist Olav Bruin, to transform Luthuli Plaza in Cape Town into an green urban space, running all the way from the Cape Town taxi rank to the Artscape. The transformation includes the Dome of Plants, a structure made using natural materials, filled with indigenous flora. And how will this Dome be watered, you ask? By using purified urine from those working in the Civic Centre.
Antón García-Abril and Débora Mesa of Ensamble Studio
Spanish architects Antón García-Abril and Débora Mesa took us through the studio's work. We featured 5 of their most striking designs, including their Structures of Landscape project, here.

Mark Kamau
Kenyan user experience and human-centered designer Mark Kamau, whose philosophy is to design with, not for, wants to bring internet access to the three billion people living without it, through the power of the BRCK microserver (read more here). "Africa cannot afford de-contextualised design," he says. "The stakes are simply too high."
Tom Dixon
Celebrated British designer Tom Dixon, renowned for his lighting, furniture and product designs, as well as his interior projects, marked the start of his three-month tour around the world at Design Indaba. His impressive body of work includes the MELT pendant light, created in collaboration with Front, which is now available locally at Créma Design.
Tony Brook
Creative director Tony Brook from SPIN design studio in London took the audience through his range of strong brand identities, including the slick new look for the iconic nightclub Ministry of Sound.
Ini Archibong
Switzerland-based Global Graduate Ini Archibong, founder of Design by Ini, creates products layered with a deeper meaning. A stand-out example of his beautiful work includes the Jadis Lighting Sculpture from his collection entitled In The Secret Garden. The sculptural piece was named after a character in C.S. Lewis's fantastical children's book, The Lion, the Witch and the Wardrobe.
Alejandro Aravena
Pritzker Prize-winning Chilean architect Alejandro Aravena designs with social impact in mind. We featured 5 of his studio, Elemental's, striking designs here.
Johannes Torpe
Danish designer Johannes Torpe, creator of the slick Bang & Olufsen store below, is also behind the proposed Red Mountain Resort in Iceland, a 150-room hotel with 20 separate bungalows that includes an art track featuring pavilions created by five local artists.
Natasha Jen
Ahead of her talk at Design Indaba, which dealt with the concept of design thinking, we chatted to this New York-based graphic designer and partner at Pentagram about her journey. Read the full interview here.
Es Devlin
Famed set designer Es Devlin believes in creating visual voices. She's designed stages for a range of superstars, from Kanye West, Beyoncé and Adele to U2 and Miley Cyrus.
Watch the Talk with Ini Archibong
Talks
• Duration: 00:09:45
•
25 Mar 19