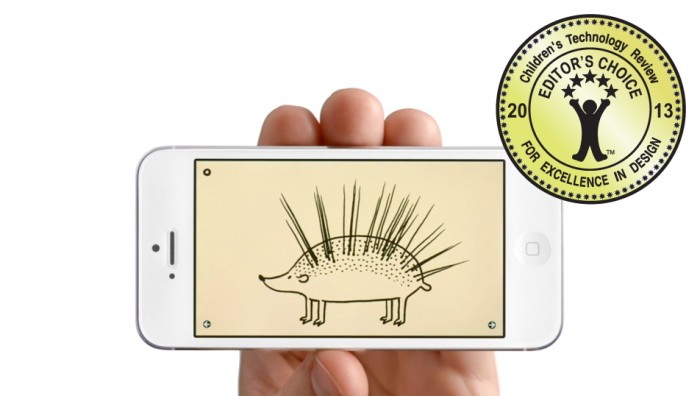 Christoph Niemann's first interactive picture book is a delightful menagerie of 21 illustrated, animated animals. Wipe and tap each unique creature and be surprised at how they react. This app combines the charm of handmade animations and Niemann's wry humour with state-of-the-art technology. What would an elephant in your bathroom do? Can a dog breakdance? Could you play a crocodile's teeth like a xylophone?
The app features thousands of hand-drawn animation frames, and playful, musical sounds for each animal, providing hours of fun for all ages! It's accessible to all languages – no English required (animals don't speak English!).
Petting Zoo by Christoph Niemann is available from both the iTunes and Google Play stores.
Click here for the international iOS edition.
Click here for the special South African iOS edition.
Click here for the Android version.
With programming by friend and developer Jon Huang and music by South African composer Markus Wormstorm, Niemann has created a lovable and entertaining pastime that is his first attempt at interactive illustration. Niemann is best know for his illustration work for The New Yorker and The New York Times. His corporate clients include Google, Amtrak and The Museum of Modern Art. After eleven years in New York, Niemann now lives in Berlin.
Criticial Acclaim
The app was released in the iTunes Store in February 2013 and launched at Design Indaba Conference on 1 March. It has already been featured in Creative Review, Fast Company, Wired magazine, Dezeen, The New Yorker, PSFK, USA Today, The Guardian (UK) and the Mail & Guardian (South Africa).
"Possibly the loveliest app you'll download this week/month/year." — Creative Review
In June 2013 Petting Zoo was awarded the Editor's Choice Award in the June edition of Children's Technology Review. Only the highest quality children's products in the interactive media category are considered for this award.
The author of The New York Times Magazine blog Abstract Sunday has also had work on the covers of The New Yorker, Time, Wired, The New York Times Magazine and American Illustration.
Credits
Concept and animations: Christoph Niemann
Developer: Jon Huang
Music and Sound Design: Markus Wormstorm
Executive Producer: Design Indaba
Project Manager & Marketing: Sarah Jayne Fell
Requirements
Petting Zoo by Christoph Niemann is compatible with iPhone 3GS, iPhone 4, iPhone 4S, iPhone 5, iPod touch (3rd generation), iPod touch (4th generation), iPod touch (5th generation), iPad and Android phones. The iOS version requires iOS 4.3 or later and is optimized for iPhone 5. The Android version requires Android 4.0 or higher.
Latest updates on Petting Zoo by Christoph Niemann
Pages