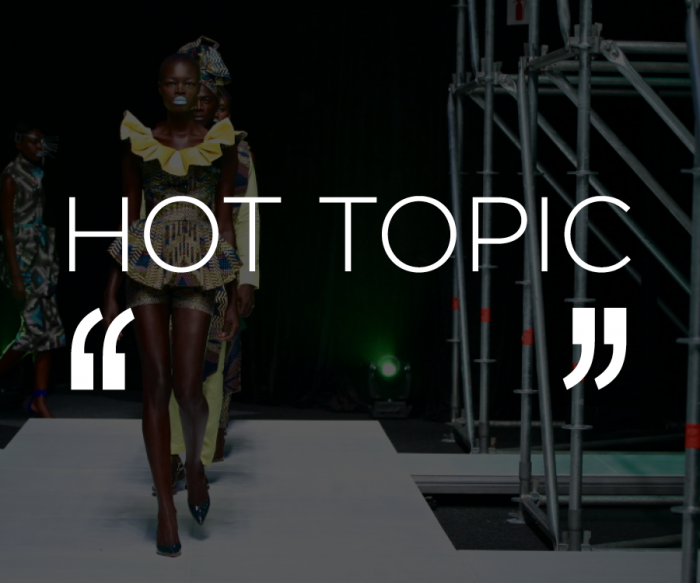 Hot Topic: Fashion Films - Elaborate ads or legitimate cinematic works?
Fashion and film have a long history together, from classics such as Funny Face and Prêt-à-Porter to more recent fashion-focussed flicks The September Issue, Coco avant Chanel and the just released Yves Saint Laurent. Beyond feature films, a new genre that celebrates couture seems to be flourishing - "fashion films" or narrative shorts that promote a brand or designer. This is evidenced by the growing number of fashion film festivals that are popping up across the globe from California, Berlin and Madrid to London, Cape Town and New York.
We ask our fashion and film industry experts what they think of fashion films. Are they just elaborate ads or legitimate cinematic works?
Bryan Ramkilawan, CEO of Cape Town Fashion Council
I think fashion films are the way forward for the industry. Producing creative narratives make the brands more accessible to the audience. While fashion weeks have their place, you get the same people attending year after year, so you end up speaking to the same people whereas fashion film provides a new medium to reach a much broader audience. It is very important for a brand to build a personal relationship with consumers. Because fashion films' approach is not overtly commercial but rather tells the story of the brand in an emotional and evocative way, it engages people on a more personal level. We (Cape Town Fashion Council) feel so strongly about this that we are partnering with the Bokeh Fashion Film Festival for the next three years and we are also producing a series of fashion films that showcase the South Africa fashion industry, which we will use to give markets abroad a snapshot of our designers' work.
Karin Fong, president of McG's production company, Wonderland Sound and Vision
Both! There's no reason to draw a line. In fact, it's downright archaic to do so. Gone are the days of making a hard and fast distinction between TV, film, ads and all the other emerging content in the in-between spaces. Never mind that art and commerce have always danced together. A film isn't a lesser work just because one of the motivations for its existence is to enhance a brand. The beauty of these fashion films is that they provide another outlet for experiments, much like music videos have done. There's a freedom in narrative structure and visual style that can push the language of cinema. Of course, not every ad or movie, fashion or otherwise, is well made, innovative, or memorable. But those that are deserve to be recognised for elevating the craft.
I would say hopefully both. Although that said, many of them fall short of the mark by becoming excuses for directors to show off a stream of footage which, although beautiful, well composed and elegantly shot, can turn into a boring visual display with little or no narrative. The films that do really well, the ones that people connect with, initially draw the viewer in with a few seconds of gorgeous footage, and then hold your attention with a compelling storyline. The fashion films being shot by the larger brands have all the production value of an epic cinematic release (think Louis Vuitton's Invitation to a Voyage) thanks to huge budgets, but the smaller brands (essentially the fashion films are brand videos) still make a huge impact by spending time and resources on clever stories, making the human and lifestyle connections that people readily identify with. Fashion designers have always wanted their art to be seen in a moving format and the fashion films that can show their clothing being worn in the correct environment and that can put across the right feelings associated with the brand, ticks both boxes. Fashion films are now becoming an integral part of any brand's essential marketing tools. A few years ago it was optional to have a brand video – now it's a must have for social media.
Valerie Steele, fashion historian, curator, and director of the Museum at the Fashion Institute of Technology, New York
Many fashion films are essentially artistic advertisements, but some are, indeed, legitimate cinematic works.
For me, it depends on two directly connected things: why am I watching it? And what is my state of mind? Nine times out of ten I'm watching for inspiration, not from a fashion perspective necessarily, but on the art and creative side. So, usually, if I get that good old direct-sell feeling, sans entertainment, I switch off. If I don't, and the level of intrigue is relatively high, I keep watching, almost always to the end. But my worst, is when the intrigue is high, the entertainment promising, and then the whole thing becomes self indulgent and pretentious. That's like taking a thirst quenching sip of a beer only to discover there's a cigarette butt in your mouth. But sometimes, when the concoction is just right, that split second taste of delicious beer is worth even the ashiest of butts.
Watch the Talk with Valerie Steele