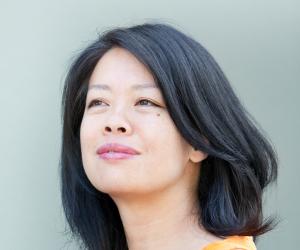 Speaker
Karin Fong directs and designs for film, television, and environments. She is a founding member of production and design company Imaginary Forces.
Fong has designed title sequences for numerous feature films, including Ray, The Truman Show, Charlotte's Web, Dead Man on Campus, The Pink Panther 2 and Terminator Salvation. Her work in television earned her an Emmy award for main title design.
Fong also directs television commercials, counting Target, Chevrolet, Herman Miller, and Honda among her clients. She recently created a series of cinematics for the Sony Playstation game God of War III. Other projects include combining cinema with architecture for environments including Las Vegas, Times Square and the Lincoln Center.
She is currently on the faculty of the Yale School of Art, where she teaches design for film and video. Her work has appeared in the Cooper Hewitt National Design Museum, the Pasadena Museum of California Art, the Wexner Center, Artists Space, and in numerous publications on design and film.
In 2014 Fong joined McG's production company, Wonderland Sound and Vision, as its president.