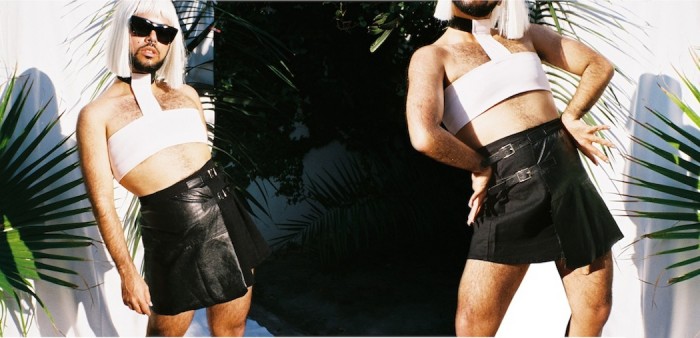 Angel-Ho is a medium to critique socio-political issues in South Africa, says Angelo Valerio.
There are many purposes for music: besides entertaining, expressing and inspiring, music also carries a lot of weight in educating and bringing audiences to a new understanding of where we are presently in popular culture. Angelo Valerio's performance persona – the controversial and conversational personality, Angel-Ho – confronts audiences both visually and aurally with the tangled, contradictory and often disturbing ways in which we construct our racial, class-based and sexual identities. Her sound can be discomforting as the clanging metal-on-metal sound of "Night Repair" in the Track of the Week illustrates.
As Design Indaba announces her as a performer in our 2015 music lineup, we touched base with her to delve into the Nu-Queer movement and the creative journey that made her.
How did you come to the personality Angel-Ho?
Angel-Ho started when I was young. My cousin and I would only say it in secret as the name was a bit adult for our ages. But this name soon began to pop out because the people surrounding me would call me Angel-Ho as if it were my first name! But the character developed as I became confident in who I am, my art aesthetic and my craft as a "faggot".
The character is a process and never fully resolved. She, Angel-Ho, is a concept, a critique of socio-political issues within South Africa. Her body is a weapon, and she can be an angel or a bitch. I call Angel-Ho "she" because I have always been around strong independent females, all my girls #DRYINGTEARS, my mother having raised me as a single parent. All these strong presences help me cope with the harsh realities we face that echo from the past and begin in the present. They allow me to speak about the oppressed and the oppressors. Angel-Ho holds the knife and the bandage, the shackles and key. Basically she is a medium for understanding/processing/discussing/interrogating our social and political ideals regarding race, classism and identity. This performance will never be finished.
So, tell us a bit about this genre, "Nu-Queer ..."
When I think about gender and sexuality, and how these "concepts" don't resonate with me in terms of the colonial theory and fact, I feel like society places so much pressure for one to identify themselves socially as well as politically, especially in South Africa. Looking to the sound of Ascension, the first sound I made called "Runnin' With Knives" was a response to these constructs and notions of LGBTQ identity.
It became my anthem, a way for me to reconcile and deal with the representation of the LGBTQ community often being projected as having aggressive sexual behaviour – in other words, being promiscuous. The sound of the track beats down as if one is constantly morphing, transforming and eliminating modes for discrimination and the objectification of our bodies as well as the stereotypes reinforced through repetition of this image.
The sound of the blade is a way of self-asserting and reclaiming our space – our identity owning our sexuality.
It became a way of shifting the social power that is used to silence and misrepresent my community.
What do you think music as a whole and your music in particular can contribute to the state of things in South Africa?
Looking back on the process and sound of Ascension, I found it important as a coloured person, who is privileged to create art, to encourage the coloured youth in my community to take an interest in art as well as to recognise their potential. The coloured community is still marginalised. Countless issues I see daily have become desensitised. Our culture has been misappropriated and misrepresented. This practice is culturally hegemonic, so it made sense to use art to preach social and political change. Placing art within environments that disrupt and for audiences that are not only within the gallery – that was something I have been wanting to do for a while now.
I used sound as a medium accompanied by performance, because everyone can experience sound or vibrations. Sound came naturally to me as I have been "listening" for 20 years. Sound, instrumentals, language… all in some way are linked to memory. Sound is learnt, then recalled. The release of vibrations can be emotive and didactic. With Ascension I wanted to constantly disrupt traditional sound to redirect the attention of listeners to message and intention, therefore making them think about how it affects them in their own environments and situations.