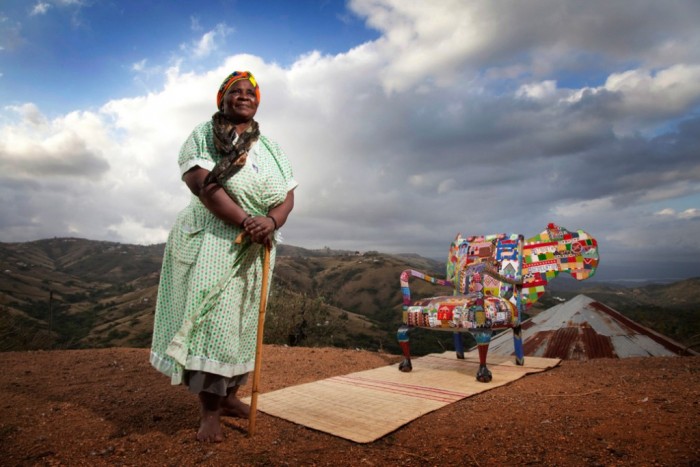 Design Indaba Expo has established itself as the foremost showcase of South African creativity, with 379 exhibitors and some 38 000 visitors. This year's event, which took place at the Cape Town International Convention Centre from 25 to 27 February 2011, proved yet again to be so much more than a trade fair. Design Indaba Expo is a multi-platform festival of creativity.
Complementing the main Expo was a chock-a-block daily programme of activities for everybody. All-day fashion shows presented the creations of some of the hottest designers on the scene while a short film festival took viewers on a delightful journey of escapism. The Design Indaba Kids workshops saw, among others, Zapiro and Heath Nash showing the designers of tomorrow how to draw a striking cartoon or create something from other people's rubbish. Pecha Kucha presentations by leading creatives gave visitors something to chew on while the Grolsch bar ensured that everybody stayed refreshed. Visitors also enjoyed a delicious, high-quality food market experience with the Earth Fair Market on the Expo floor.
On Saturday 26 February 2011 trend forecaster Li Edelkoort, together with Woolworths, presented her Trend Seminar to a captive audience of stylistas. Simultaneously, the Education Indaba gave local educators the opportunity to gain valuable insights from the likes of Michael Wolff and Pierre Keller of Ecal in Switzerland.

«One of the key attractions at Design Indaba Expo, the Most Beautiful Object in South Africa award went to Woza Moya for their Dreams for Africa chair. The Most Creative Stand award, as selected by Richard Hart, went to Emerging Creative Ian Kelynack's Isle of Trees exhibit.»
The future of South African design and creativity looks particularly bright, given the unique talent on display at the Emerging Creatives platform, presented by the Design Indaba Trust and the Department of Arts and Culture.
The Design Indaba atmosphere reached far into the city with the second Design Indaba Filmfest taking place at the Freeworld Design Centre on the Fanwalk. Javier Mariscal's animated Chico and Rita was a hit, as was street artist Banksy's Exit Through the Gift Shop. Design legends Massimo and Lella Vignelli were there in person to introduce the special preview of Design is One, a film about their work and life in design.
Meanwhile, Cape Town's trendiest new club, Trinity was the venue for the Design Indaba Party. Here Lindiwe Suttle, Spoek Mathambo and Black Coffee were among those showing off their musical talents. Not to mention the surprise appearance by Hugh Masekela.
More than beautiful designs and inspiring experiences, Design Indaba also contributed some R261 million to the GDP, up from R232 million in 2010 and R191 million in 2009. The bulk of this number was made up of business orders to the value of R141 million, up from R123 million in 2010.
«As all good things do, Design Indaba Expo 2011 came to an end. But for those that simply can't get enough, the third Cape Town Design Route, launched in collaboration with Cape Town Tourism, brings you some of the very best design the city and surrounds has to offer. It presents you with the creative magic of Design Indaba Expo all-year round.»
But still that's not all. Design Indaba's recently revamped online offering, www.designindaba.com brings you the best of Design Indaba all-year round. A brand new, free, video section presents an all-star cast of past speaker presentations, sponsored by South African Tourism. In addition to the latest design news, innovations, interviews and speaker updates, www.designindaba.com presents the new Design Indaba online shop. Easy access to bespoke, high-quality South African designs is no longer limited to the Expo foor.
Watch the Talk with Jonathan Shapiro