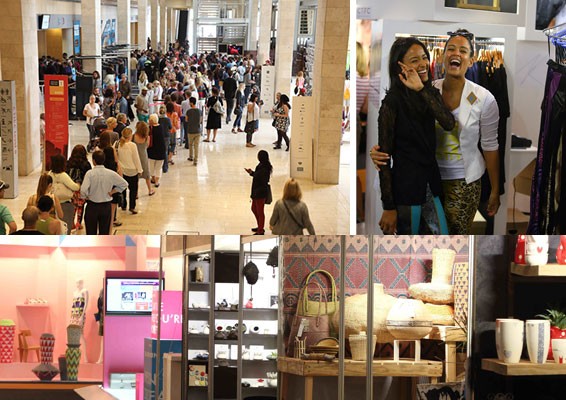 As the biggest platform of its kind in South Africa, the exhibition gives you the opportunity to showcase, sell and market your products or services to both local and international audiences. It's your opportunity to be part of the best in African talent that is being exported to the global marketplace.
Design Indaba Expo is the only creative platform that welcomes all aspects of creativity including architecture and spatial design, communication and digital design, fashion, furniture and homeware as well as handmade, industrial and jewellery design, design for social impact and even artisanal food, all under the same roof.
What's more, if you book and pay in full before 31 August 2014, you'll also qualify for the Early Bird rates; thereafter our normal rates apply.
At Design Indaba Expo, you are not just buying floor space; you are investing in:
An exclusive trade day with over 800 buyers: international and local
Over 40 000 visitors through the doors
R 201.9 million in business orders
Design Indaba Expo helped contribute R 385.2 million to South Africa's
GDP in 2014
Over 350 media representatives
Over R20 million in media coverage
20% discount on a single full Design Indaba Conference ticket and on
advertising rates on www.designindaba.com
Exclusive invitations to the Design Indaba events
*Visitor numbers and economic contributions used here are for Design Indaba Expo 2014.
Rates for 2015:
There are three main rates to cater to exhibitors: Custom Package (floor space only), Shell Package (standard) and Shell Package (premium). See more.
To qualify for the Early Bird rate stand booking and full payment need to be processed by 31 August 2014; thereafter standard rates apply.
Please note that Design Indaba Expo is a curated exhibition and you will need to apply here.
Design Indaba Expo is not just about stand space – we have plenty of other exciting ways you can get on board to showcase your work.
We look forward to welcoming you to Design Indaba Expo 2015 and helping you to take your creative business to the next level.
To book, or for queries please contact Bev Cupido on 021 465 9966 or send an email to bev@interactiveafrica.com